TWO MEMBERS OF VIETNAMESE WOMEN FOR HUMAN RIGHTS ARRESTED
[box style="light-blue comment rounded" ]We want to point out here that Mrs. Tran Thi Hai is a dan-oan herself, a noted activist, and a former prisoner of conscience. Ms. Nguyen Ngoc Lua is one of the most active member of  VNWHR and the daughter of Mr. Nguyen Van Lia. He is a leader of the persecuted Hoa Hao Buddhist Sect and an internationally known Vietnamese prisoner of conscience.[/box]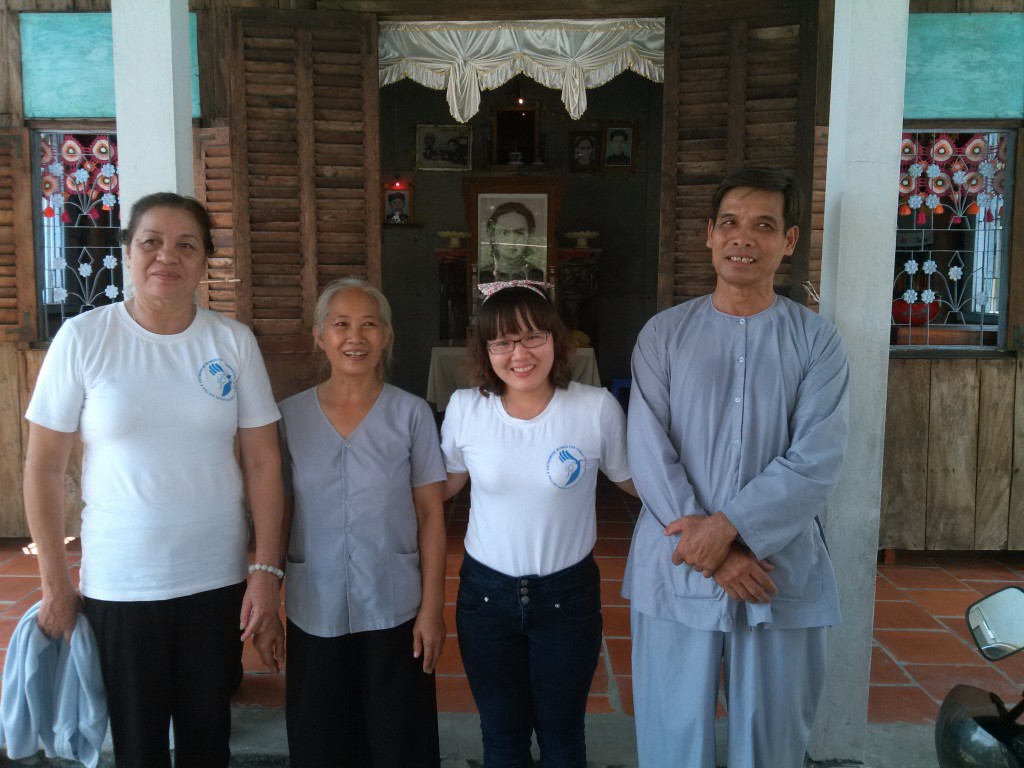 Tell The World
Translation by[rollinglinks]Chan Minh[/rollinglinks]
Defend The Defenders
By VNWHR | Apr 24, 2014

On April 22, 2014, around 11:35AM, as they came out of an Appelate Courtroom,  two representatives of  the Vietnamese Women for Human Rights (VNWHR) organization,  Mrs. Tran Thi Hai and Ms. Nguyen Ngoc Lua, were surrounded by dozens of policemen who proceeded to attack them with electric whips and then forcibly take them by car to the police station of Hamlet An Khanh, Ninh Kieu District, Province of Can Tho.
Mrs. Tran Thi Hai and Ms. Nguyen Ngoc Lua had come to Can Tho to attend the trial of two dan-oans,  Mrs. Nguyen Thi Tuyen and Mrs. Nguyen Thi  Anh Nguyet. ("Dan-oan" is  Vietnamese short-hand term meaning literally  "unjustly accused people".  They are actually people whose home and/or lands were forcibly taken away from them without their consent and/or compensation by state, provincial, or local governments exercising their eminent domain rights.) These two dan-oans were arrested in October 2013 because of they were very active in protesting the land grabs initiated by the local government at the Co Do (Red Flag) Cooperative Farm.  Their arrests compounded the pains already inflicted on the suffering families. These families already lost their home and land, and now they are losing their mothers who are going to jail for a long time. At the April 22, 2014 session, the Appellate Court let stand Mrs. Nguyen Thi Anh's initial sentence of three years in jail and took just 6 months off from Mrs. Nguyen Thi Truyen's sentence: she will spend two  years in jail rather than two years and a half.  Very few people attended the trial. Present in the Appellate Courtroom on the side of the accused where just four people: the husbands of the dan-oan ladies, Mr. Pham Van Co and Mr. Nguyen Van Thanh, and the two ladies representating of our VNWHR organization.
The news of the arrest of our representatives came to us from Mr. Pham Van Co and Mr. Nguyen Van Thanh immediately at the time of their arrest, around 11:35AM on April 22, 2014. However, despite numerous attempts between that time and well into the night,  we were unable to contact Ms. Tran Thi Hai and Ms. Nguyen Ngoc Lua until 8:30PM, when they finally were able to call us.
We want to point out here that Mrs. Tran Thi Hai is a dan-oan herself, a noted activist, and a former prisoner of conscience. Ms. Nguyen Ngoc Lua is one of the most active member of  VNWHR and the daughter of Mr. Nguyen Van Lia. He is a leader of the persecuted Hoa Hao Buddhist Sect and an internationally known Vietnamese prisoner of conscience.
It was not until 8:30PM that our organization received a phone call from Ms. Nguyen Ngoc Lua. She  let us know that her colleague Mrs. Tran Thi Hai and her were finally released by the police. In the same phone call, she told us that Mrs. Tran Thi Hai and her were severely beaten by the police. Specifically, Mrs. Tran Thi Hai was beaten so hard that she was knocked down to the ground where she passed out cold when her head hit the ground. Ms. Nguyen Ngoc Lua also told us that the police came the home of Mrs. Tran Thi Hai trying to intimidate her husband and family with news of her arrest.
It was well past 10PM when Mrs. Tran Thi Hai and Ms. Nguyen Thi Lua were able to catch a bus back to Saigon. A kind-hearted friend from the province of Vinh Long paid for the bus tickets.  The two ladies from the VNWHR eft Can Tho without the luggages they came in with as these were lost sometime during the events of the day.
We at the VNWHR  are closely tracking this story and will let you know if anything else transpires.
We would like to appeal to public opinion in Vietnam as well as overseas to please do everything that can be done to elp defend and support our member, Ms. Nguyen Thi Lua and Mrs. Tran Thi Hai, as well as the dan-oans they are supporting and defending.
The Executive Committee of Vietnamese Women for Human Rights.