Vietnamese Women for Human Rights and Former Vietnamese Prisoners of Conscience condemn unfair sentence to 12 land petitioners from Trinh Nguyen quarter
[themify_box style="blue download rounded" ]Vietnamese Women for Human Rights and Former Vietnamese Prisoners of Conscience condemn unfair sentence to 12 land petitioners from Trinh Nguyen quarter[/themify_box]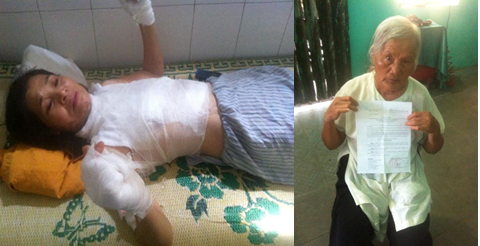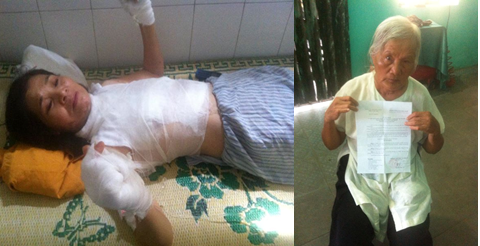 PNNQ | Sep 5, 2014
Translation by Trang Thien Long (DTD)
Tell the World
Yesterday, Sep 4, 2014, the Tu Son court of Bac Ninh province opened the trial to 12 land petitioners of Trinh Nguyen quarter, Chau Khe ward, Tu Son Town on the charge of "disturbing public order community ."
It is known that since 2009, the authorities of Tu Son town had the decision to confiscate Trinh – Nguyen lands for a project on wastewater treatment that is too near residential areas. The majority of households in this quarter are the revolutionary families. For many years, they have made a complaint to the local authorities to ask them to relocate the projected plant to Dong Kho zone to avoid the bad effects to people's living environment.
From year 2009 to 2013, Bac Ninh authorities not only have not resolved the complaint, but also suppressed the farmers roughly. During 2013, to deal with the people's determination to keep the land (not for the construction of the plant) the authorities deployed the police force, a large civil guards to threaten, terrify people; using thugs to beat up those who protected farmland; expelling some people from Communist Party members, including Mrs. Ngo Thi Duc; sending the local police to each household in order to force them to receive compensation that would otherwise be difficult for jobs; going to every school to advice teachers to threaten their students not to keep lands would otherwise be expelled, etc.
The climax of suppression was on Jun 18, 2013, Tu Son authorities has deployed a large force including mobile police, civil guards, uniform and plainclothed police with arm landed in the project area. Being prevented, they ruthlessly beat the elderly, women and children. Many people have suffered serious injuries to hospitalize.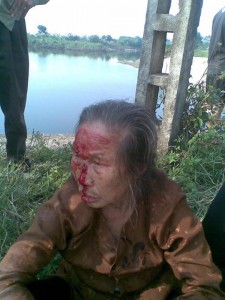 Until 9 am on Jul 04, 2013, thugs used acid to attack on Mrs. Do Thi Thiem when she was on the way to visit her mother home. Mrs. Thiem is very resilient and courageous; she is considered as the spiritual leader of Trinh Nguyen people. At the hospital, she said that this incident happened by direction of the police to revenge her. Ahead of the day she was attacked with acid, the authorities pressured her to withdraw the complaint.
Around October 2013, the procuracy of Tu Son town has prosecuted all 12 people involved in keeping the land to prevent this project with the charge of "disturbing public order." All 12 defendants were out on bail and summoned to appear in court the day to be judged. Notably, ahead of the hearing, 12 people were forced to sign confessions. Mrs. Ngo Thi Duc was too frustrated  that she cut off her own finger to protest.
After being postponed several times for no reason, the trial took place with little public attention on Sep 4, 2014. The conviction and sentence are:
–Do Thi Thiem, Do Van Quy, Do Van Hao received 28 months in prison for each.
–Ngo Thi Toan, Dang Thi My and Ngo Thi Nhu (she is deaf and illiterate) got 26-month imprisonment for each.
–Ngo Thi Duc and Dang Van Nhu take 28 months' probation for each.
–Do Thi Thiem (not above, the other name is Trinh), Nguyen Thi Chien, Vu Thi Thao, Ngo Thi Thoa were subjected to 36 months' probation for each.
Just because of request the authorities to relocate  wastewater plant to another area so as not to affect people's health they suffered a brutal repression. Even a total of 12 people has been falsely convicted.
Given the shameful violation of Human Rights, Vietnamese Women for Human rights and Former Vietnamese Prisoners of Conscience strongly opposed to the verdict aiming at repressing land petitioners.
Free 12 landless farmers unconditionally and prosecute perpetrators who beat and threw acid  in people.
We also condemn the regulation which caused waves of complaints on land grab across the country, it is "people only have the right to use land, not the right to possess". And it is again integrated into the new constitution of the regime.
Vietnam, September 5, 2014
VNWHR's and FVPoC's representatives:
1 Dr. Nguyen Dan Que
2 Father Phan Van Loi
3 Ven. Thich Khong Tanh
4 Pham Ba Hai (MBE)
5 Lawyer Nguyen Van Dai
6 Pham Chi Dung (Ph.D.)
7 Ms. Huynh Thuc Vy
8 Mrs. Tran Thi Hai