Hanoi Police Detain Blogger Returning from Cyber Security Training in Singapore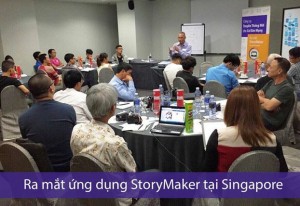 [themify_box style="blue comment rounded" ]Dung was transferred to a police station near the airport for questioning for four hours.
Meanwhile, Thao and her friends activists were waiting for Dung in the airport's arrival. After learning that he was detained, they went to a number of security departments in the airport to ask information about him but they refused to admit his detention.[/themify_box]
By Vu Quoc Ngu | May  19, 2015
Vietnam's security forces on May 18 detained for several hours Hanoi-based blogger Mai Van Dung who returned from Singapore where he attended a short training course in cyber security, local bloggers informed.
Mr. Dung was scheduled to land in the Hanoi-based Noi Bai International Airport at 6.20 PM, however, he was detained immediately after completing administrative procedures by local security forces. He just managed to send a brief message to his daughter Mai Thi Phuong Thao who was accompanied by several friends to host him at the airport.
Dung was transferred to a police station near the airport for questioning for four hours.
Meanwhile, Thao and her friends activists were waiting for Dung in the airport's arrival. After learning that he was detained, they went to a number of security departments in the airport to ask information about him but they refused to admit his detention.
Then activists hanged banners to demand Hanoi's security forces to release Dung immediately. In response, the security forces sent thugs to take their banners and beat several activists. Among victims are Nguyen Van De and Bui Tien Hung.
Dung was released at late night. Police escorted him to Hang Co central railway station in Hanoi's center.
Earlier on May 15-17, Dung joined other Vietnamese activists to participate in the Story Maker application training course in Singapore organized by the Radio for Free Asia (RFA) and pro-democracy Viet Tan which is labeled as a terrorist group by the communist government in Hanoi.
Story Maker is the open source app, which is available for Android mobile devices, allows users to produce and publish news in a safe and secure manner. Participants said it is a powerful platform to spread the truth, to report on the challenges of Vietnamese victims of corruption and to provide a picture of today's Vietnam.
Along with banning political dissidents and bloggers from going abroad by confiscating their passports, Vietnam's security forces often detain shortly when government critics return to the home country after attending international workshops or meeting with foreign diplomats and officials.
Last month, independent U.S.-based The Committee to Protect Journalists (CPJ) ranked Vietnam as the world's sixth most censored country in its annual list based on analysis of media suppression tactics such as imprisonment or harassment of journalists, repressive laws and restrictions on the Internet.
The report said independent Vietnamese bloggers who criticize government's economic mismanagement and weak response to China's violations of the country's sovereignty as well as report on corruption may face arbitrary arrests, harassment and persecution by the communist government.
According to international human rights bodies, Vietnam is imprisoning between 150 and 200 political dissidents and bloggers while Hanoi denies holding any prisoner of conscience but only law violators.