Vietnam Activists Brutally Beaten by Policemen, Thugs after Visiting Fresh-released Political Prisoner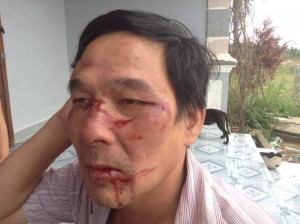 [themify_box style="blue, announcement, rounded" ]Among assaulted activists are Ms. Tran Thi Nga, a member of the unsanctioned Vietnam Women for Human Rights, Mr. Truong Minh Tam, a member of the unregistered Vietnam Pathway, former political prisoner Mr. Chu Manh Son, Mr. Le Dinh Luong, younger uncle of human rights lawyer Le Quoc Quan, and a couple who want to remain unnamed.[/themify_box]
by Vu Quoc Ngu, August 28, 2015
Many Vietnamese activists were  brutally attacked by policemen and thugs in the Central Highlands province of Lam Dong on August 28 after they visited a fresh-released political prisoner.
Among assaulted activists are Ms. Tran Thi Nga, a member of the unsanctioned Vietnam Women for Human Rights, Mr. Truong Minh Tam, a member of the unregistered Vietnam Pathway, Mr. Chu Manh Son, a former political prisoner, Mr. Le Dinh Luong, younger uncle of human rights lawyer Le Quoc Quan, and a young couple who want to remain unnamed.
The attacks happened in Duc Trong district, about 30 kilometers from Da Don commune, Lam Ha district where resides Tran Minh Nhat, a former political prisoner who completed his four-year imprisonment on August 27.
Undercovered policemen and thugs stopped two buses on which activists travelled from Mr. Nhat's private house, one to Saigon and the another to Da Lat city.
On the first bus heading to Saigon, the thugs assaulted Mr. Luong (facebook account Lỗ Ngọc) and the young couple. The attackers caused serious injuries on faces, heads and bodies of the three activists.
A group of eleven activists travelled on the second bus which headed to Da Lat city. Policemen and thugs forcibly stopped the bus and attacked three activists Tam, Nga and Son. Ms. Nga, and broke an Ipad and  a smartphone of Son.
Son, Tam and Luong were severely beaten, with many injuries and bleeding on their faces and heads.
The activists came from different regions to visit Nhat who completed his four-year sentence one day earlier.
Ms. Nga said some attackers were with police uniforms. One local resident recognized that some attackers are local policemen and he asked loudly "Why Duc Trong police beat peope?." The attackers stopped beating and immediately left the scene, Nga said.
After receiving urgent assistance, some victims went back to Nhat's house to seek for shelter while other continued to travel.
In Da Lat city, Nga and other activists reported the incident to the provincial Police Department which pledged to look into the case later.
This is the second attack against Mr. Tam this week. Tam, who was politically sentenced to one year in prison in a civil case two years ago, was attacked on August 24 after he met with authorities of Prison No. 5 in the central province of Thanh Hoa where he was held. The attackers, whom Mr. Tam believed the prison's authorities hired, beat him and threw all his cell phones and camera as well as the documentation which can be used for challenging the validity of his arrest and trials as well as the inhumane treatment of the prison into a river at a place about one kilometer from the prison.
For  Ms. Nga, a Ha Nam province-based land and labor activist, the assault was among numerous attacks against her in the past few years. Last year, thugs broke her legs when she visited other activists in Hanoi.
Vietnam's government has intensified its political crackdown against local dissidents and human rights activists recently, however, it has implemented new tactics to deal with growing social dissatisfaction. Instead of arresting government critics, the move can be condemned internationally, local security forces have been deploying thugs to beat activists.
Dozens of Vietnamese activists have been brutally assaulted by government-supported thugs during the past few years, and the victims included Nguyen Chi Tuyen, Truong Van Dung, Trinh Tuan Anh, Nguyen Hoang Vi, Nguyen Tuong Thuy and JB Nguyen Huu Vinh. The authorities have pledged to conduct investigation in these cases, however, no progress has been reported.
On June 25, police and militia in the central province of Nghe An also brutally attacked a group of about 50 relatives and activists coming to a local prison to pick up Mr. Trinh Ba Khiem, a prisoner of conscience released one month before his term ends. In early morning , when relatives and activists came near the prison's gate, the prison's authorities sent policemen and called on local militia to block the group and later attack them.
Two sons of Mr. Khiem, Trinh Ba Phuong and Trinh Ba Tu and several activists, including female blogger Mai Thanh, were severely assaulted, with numerous injuries in their faces and bodies. Policemen also confiscated their cell phones and broke a number of cameras.
Vietnam has pledged to improve its human rights records in a bid to be being allowed to join the 12-nation Trans-Pacific Partnership which is led by the U.S. On the occasion of the country's National Day [September 02], the communist government decided to grant amnesty for over 18,300 prisoners, only one of them is sentenced due to a charge related to the country's security and no prisoners of conscience are included.
Back to fresh-released Nhat, who was sentenced to four years in jail and three years under house arrest. He, together with 16 other young Catholic followers, was arrested in 2011 and convicted of trying to "overthrow the people's government' under Article 79 of Vietnam's Penal Code and for their alleged affiliation with the U.S.-based opposition Viet Tan party.
Mr. Nhat, born in 1988, vowed to continue his activism to fight for multi-party democracy and better human rights in Vietnam.
Thai Van Dung, one of Nhat's fellows, was freed on August 19. However, he is still under four years of house arrest.
A number of members of the group, including Dang Xuan Dieu, are still serving their long-term sentences of 13 and 14 years under severe conditions.
According to the New York-based Human Rights Watch, Vietnam is holding between 150 and 200 prisoners of conscience. Hanoi denies, saying only law violators are being imprisoned./.