Vietnamese Detainee Dies Eleven Days Before Trial, Police Say Acute Pneumonia Causes His Death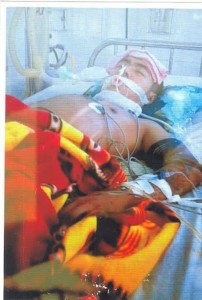 [themify_box style="BLUE, ANNOUNCEMENT, ROUNDED" ]While the medical staff of the Duc Hoa district-based Hau Nghia General Hospital said the causes of his death are unknown and can only be determined after autopsy, the district police said he died from acute pneumonia, according to state-run Nong Thon Ngay Nay newspaper.[/themify_box]
by Vu Quoc Ngu, Jan 24, 2016
Luong Minh Tuan, a resident from Vietnam's southern province of Long An and was detained for allegation of property stealing several months ago, died on January 17 in a local hospital, eleven days ahead of the scheduled trial against him, state media has reported (http://www.baomoi.com/Bi-can-chet-toa…/c/18517519.epi…)
While the medical staff of the Duc Hoa district-based Hau Nghia General Hospital said the causes of his death are unknown and can only be determined after autopsy, the district police said he died from acute pneumonia, according to state-run Nong Thon Ngay Nay newspaper.
Mr. Tuan, 22, was accused of stealing property worth VND6 million ($270), equal to two minimum monthly salaries in the communist nation, and his trial was set on Jan 28.
His mother Luong Thi Kim Tuyet said Tuan was healthy when she visited him on January 15 at the detention facility of the Duc Hoa district. On the evening of the same day, she was informed by Tuan's friend that her son was transferred to the hospital for emergency.
When she went to the hospital, she recognized that her son fell in coma. Senior officials from the provincial Department of Health said Tuan was in clinical death before being admitted to the hospital, the newspaper said.
Tuan is among a number of detainees dying before being tried this month. Also in mid January, Mr. Dang Van Hanh from the central province of Nghe An died after being arrested on allegation of stealing two boxes of bricks.
In another case, Nguyen Thanh Tam, a student of 9-grade class in the central province of Quang Ngai, committed suicide after being interrogated for allegation of property stealing by local police without presence of his relatives nor teacher, according to state media.
In Vietnam where torture and other ill-treatment is systemic, many people died in police stations and detention facilities. According to the Ministry of Public Security, 226 detainees and prisoners died in the period between October 2011 and September 2014. Last year, around twenty people died in police stations and dozens suffered severe injuries.
While police said illness and suicides were main causes of their deaths, the victims' families believe that police torture is the key reason.
Few Vietnamese policemen have been disciplined for torturing suspects.
Vietnam adopted the Convention against Torture and Other Cruel, Inhuman or Degrading Treatment or Punishment in 2014.