Peaceful Demonstrations for Clean Environment in Vietnam Violently Suppressed, Hundreds of Activists Detained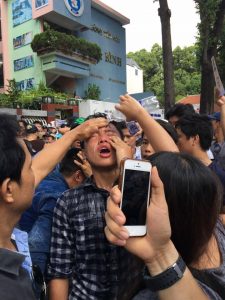 [themify_box style="BLUE, ANNOUNCEMENT, ROUNDED" ]During the demonstrations on the second consecutive Sunday, thousands of activists rallied in centers of the localities, hanging banners and chanting to demand for transparency in the investigation of the massive death of aquatic species in the central coastal areas and request the government to take urgent measures to deal with the serious disaster which has killed hundreds of tons of fish since April 26.[/themify_box]
By Vu Quoc Ngu, May 8, 2016
Vietnam's security forces have violently dispersed peaceful protests for cleaner environment in Hanoi, Ho Chi Minh City and other places on May 8, beating and detaining hundreds of activists to local police stations, bloggers have reported.
During the demonstrations on the second consecutive Sunday, thousands of activists rallied in centers of the localities, hanging banners and chanting to demand for transparency in the investigation of the massive death of aquatic species in the central coastal areas and request the government to take urgent measures to deal with the serious disaster which has killed hundreds of tons of fish since April 26.
Observers said there were several hundreds of people attended the protest in Hanoi on May 8. The local security forces blocked all the roads leading to the Big Theater where protesters planned to gather and start their demonstration. Police arrested nearly a hundred of activists, including young mothers and their children and took them to police stations in Long Bien and Ha Dong districts.
Teacher Vu Manh Hung said police officers knocked down him and other activists on the ground when they stood near the Big Theater, and took the activists into a bus like they treat with animals.
The police in Hanoi released all detainees one by one in late afternoon after interrogating them. Some activists, including blogger JB Nguyen Huu Vinh said they were left without food during lunch while blogger Thao Teresa accused a police officer in Thanh Tri district's police headquarters of sexually abusing her while in custody.
In HCMC, the biggest economic hub in Vietnam, around two thousands of local activists gathered around Notre-Dame Cathedral Basilica of Saigon to protest Formosa's discharge of very toxic chemicals into sea water in Vietnam's central coast. The local police used tear gas to disperse the demonstrators, beat many of them and arrested hundreds of people and took them to a local stadium. Police released many people but still keep many others by the evening of the same day.
Police also arrested a number of environmentalists in the central city of Nha Trang, among them was blogger Nguyen Ngoc Nhu Quynh, winner of the Defender of The Year in 2015 of the Stockholm-based Civil Rights Defenders.
Many political dissidents, social activists and human rights across the nation complained that they have been barred from going out on Sunday. Police officers and plainclothes agents were stationed near their private residences from evening of Saturday.
During last week, police forces and plainclothes attacked and detained a number of environmentalists, among victims are Mr. Nguyen Van Thi from Danang, land petitioner Nguyen Thi Huyen from the northern port city of Haiphong and blogger Trang Nguyen from the central province of Thanh Hoa, and Lau Nhat Phong and Mac Vi Luc from HCMC. All of them, with exception of Ms. Huyen, were severely beaten by police.
Last Sunday, around 5,000 activists and people participated in anti-Formosa protest in Hanoi. The local police did not suppress the peaceful demonstration but blocked many high-profile activists from taking part in the event. Meanwhile, security forces in HCMC violently dispersed the peaceful demonstration for environmental issues with the participation of over two thousands of people, detained dozens of them and barbarically assault the detainees, including elders and female students before releasing them in late night of Sunday and early morning of Monday.
In late April, police also detained two former political prisoner Truong Minh Tam and Chu Manh Son when they covered news on the disaster in Ha Tinh and Quang Binh, respectively. Tam was tortured and treated like an animal during the seven-day detention on April 28-May 04 while Son was released earlier.
Vietnamese activists have rallied across Vietnam in recent weeks after hundreds of tons of aquatic species died along the coast of Vietnam's central provinces of Thua Thien-Hue, Quang Tri, Quang Binh and Ha Tinh from April 6. The en-mass death of aquatic species occurs due to local water's contamination with very toxic chemicals, according to experts, while Formosa, located in Ha Tinh province, discharged roughly 931,830 cubic meters of waste water into Vietnam's sea in the first quarter this year.
One diver died and 15 others were hospitalized for urgent emergency after they worked in sea waters in the central region last week, according to Vietnam's state media.
The leadership of Formosa admitted that they imported over 300 tons of very toxic chemicals, including CYC-VPrefilm900, CYC-Vprefilm400, CYC-Vclosetrol360, and CYC-VMA 796 for cleaning their machineries and pipes in its steel production project in Ha Tinh.
The en-mass death of aquatic species in Vietnam, starting from the central coastal region early last month, has spread to other places such as rivers in the central province of Thanh Hoa and and coastal areas in the northern province of Thai Binh.
Fishermen in the central region have reported that toxic substances have killed all local coral. They also reportedly saw a huge volume of death fish in the sea bed which is covered with a thick white layer of toxic chemicals.
Intellectuals, independent civil society organizations and environmentalists have requested Formosa to stop discharging improperly-treated waste into the environment and apply all measures to clean up the polluted areas as well as compensate for the damages to the environment and livelihood of people in the affected areas.
They also demand Vietnam's government to tighten control over discharge of toxic waste by Formosa and not allow the Taiwanese firm to continue to release improperly-treated waste into the environment. The government should close the Formosa steel project if it cannot guarantee not to pollute the surrounding environment with toxic waste.
Vietnam's authorities have to launch a thorough investigation to find those officials responsible for approving Formosa project without considering its environment impacts or those who failed to control the waste discharge of the project, they urged.
Activists have urged Vietnam's public to strongly raise their voices to condemn environmental pollution linked to the country's key industrial or extractive projects, including the bauxite mining projects in the Central Highlands and the nuclear power plants in the central coastal province of Ninh Thuan.
They said Vietnam should not sacrifice the environment, the country's sovereignty, and interests of poor people for fast growth. Vietnamese people should not tolerate those state officials who have worked for their own personal interests but ignored public benefits.
On May 5, the UN Human Rights Office for South-East Asia (OHCHR) expressed concern over the impact of mysterious mass fish deaths along Vietnam's central coast on the enjoyment of human rights in the country, in particular, the right to health and food.
The Regional Office is also concerned about the treatment of those joining protests which erupted over the fish deaths, and called on authorities to respect the right to freedom of assembly in line with international law.
"Vietnamese authorities should adopt legal and institutional frameworks that protect against such environmental harm that interferes with the enjoyment of human rights, and ensure that all the persons negatively affected, in particular fishermen, have access to effective remedies," said Laurent Meillan, OHCHR's Acting Regional Representative.
The UN's agency urged the Vietnamese government to conduct an independent, thorough and impartial investigation of the reported cases of excessive use of force by law enforcement officers.
Meanwhile, Vietnam continues its investigation on the fish deaths as well as waste discharge of toxic chemicals of Formosa. The slow investigation has angered local people while the state media has been limited to cover news on the case.
In order to raise the country's gross domestic products (GDP), the Vietnamese communist government has offered a number of incentives for foreign investors to encourage them to develop industrial projects in the Southeast Asian nation. Vietnam prioritizes economic growth without paying attention in environmental issues, experts said.
Vietnam has intensified crackdown against local political dissidents, social activists and human rights defenders two weeks ahead of the general elections for the country's parliament and People's Councils in provincial, district and communal levels, and the upcoming visit of U.S. President Barack Obama to the country in late May.
Prior to his first and final visit to the communist nation, many politicians and human rights activists have urged President Obama to urge Hanoi to improve its human rights records which have worsened several months before the 12th National Congress of the ruling communist party in late January.
Vietnam has tolerated any criticism to the government's socio-economic policies and considers all spontaneous demonstrations illegal.