Vietnam Activist Detained, Severely Beaten by Police during Obama's Visit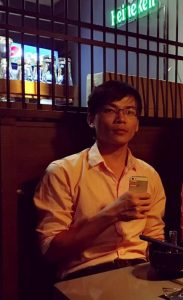 [themify_box style="blue, announcement, rounded" ]Security forces in Vietnam detained two times a local activist, beating him severely during the three-day visit of U.S. President Barack Obama in a bid to prevent him from meeting with the American leader, the victim has said.[/themify_box]
By Vu Quoc Ngu, May 26, 2016
Security forces in Vietnam detained two times a local activist, beating him severely during the three-day visit of U.S. President Barack Obama in a bid to prevent him from meeting with the American leader, the victim has said.
In the late evening of May 20, Nguyen Viet Dung, a former prisoner of conscience, was detained by security forces in Ho Chi Minh City when he left a cafeteria of his friend. A group of police officers severely attacked him and took him to a police station of Cau Kho ward in District 1.
Dung, who is the founder and leader of the unsanctioned Republican Party of Vietnam, said in police station police officers threatened him and used dirty words during interrogation. They also confiscated his cell phone, not allowing him to contact with his friends and relatives.
Security officers questioned him until afternoon of May 22 and took him to the Saigon-based Tan Son Nhat International Airport where they forced him to take a flight to his home province of Nghe An in the country's central region.
Arriving in the Vinh Airport, Dung was re-arrested by the local police who took him into a car and started to beat him. They used their shoes to beat him and event stopped to take a stone on a road to attack him. Policemen threatened to cut his ears and remove skin in his arm where has an anti-communist tattoo he made during his one-year imprisonment which ended in April.
The attackers said they could kill him or make him disappeara without a trace. Later, they brought him to Huong Sen Hotel in Cua Lo town where police officers subjected him to constant interrogation and torture.
The police officers threatened him that they could inject him with toxic substance or make him lose conscience. They ordered Dung to confess to anti-state activities and when he asked them to respect laws, they beat him again.
In the evening of May 24, three police officers deported him to his home in Hau Thanh commune, Yen Thanh district.
Mr. Dung, who was illegally arrested on April 12 last year and unfairly sentenced to one year in prison, said he felt pains in his whole body after the five-day detention.
Dung is among a number of Vietnamese activists being detained by Vietnam's security forces during the visit of President Obama to the communist nation on May 23-25. Among victims are Dr. Nguyen Quang A and blogger Pham Doan Trang from Hanoi, Nguyen Ngoc Nhu Quynh (aka Me Nam- Mushroom Mother), Vu Huy Hoang and Nguyen Nu Phuong Dung in Saigon, and Vietnamese American Nancy Nguyen.
Police also put many other political dissidents, social activists and human rights defenders nationwide under house arrest during Tuesday-Wednesday in order to prevent them from meeting with President Obama who had talks with representatives of civil society in Hanoi on May 24.
Police released Hanoi-based activists after Obama left the capital city to Ho Chi Minh City while in Saigon, police removed their patrols near private residences of local activists when the American president took his flight to Japan where he will attend the summit of the Group of Seven (G-7).
In addition to barring local activists from going abroad, Vietnam's government does not want them to meet with foreign diplomats and politicians inside the country. During his stay in Hanoi, President Obama invited nine representatives of local civil society for a discussion, however, only a few of them successfully attended the meeting while the others, including Dr. A and blogger Trang, were blocked.
The freedom of expression and assembly and the right of free movement are enshrined in Vietnam's Constitution 2013.