Vietnam Imprisons Two Activists for Anti-state Propaganda Allegation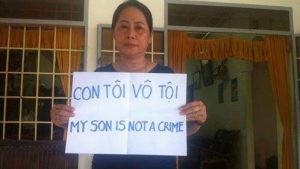 By Vu Quoc Ngu, August 23, 2016
The People's Court in Vietnam's central coastal province of Khanh Hoa on August 23 found two online activists Nguyen Huu Quoc Duy and Nguyen Huu Thien An guilty of conducting anti-state propaganda under Article 88 of the country's Penal Code.
The court sentenced Duy, 31, to three years in prison and An, 21, to two years in jail.
According to the indictments, Duy, a resident of Cam Ranh city, was arrested on November 27, 2015 for posting articles on his Facebook page criticizing policies of the Vietnamese government while his cousin An was detained on August 28, 2015 for drawing the letters DMCS (which stands for F*ck communism) on a wall of the Vinh Phuoc ward police building and supporting a pro-democracy campaign Zombie which call on Vietnamese people to pay more attention to politics rather than be like moving zombies.
Duy was also accused of using Facebook messenger to provide "incorrect information about state leaders" to 30 school students.
His mother, Mrs. Nguyen Thi Nay was not allowed to attend the open trial of her son as police detained her in early morning of Tuesday and held her in detention until late afternoon when the trial finished.
A group of eleven activists from Saigon went to Cam Ranh city to observe the trial against Duy and An, but they were violently taken to a local police station and were released after the sentences were announced.
One day prior to the trial, Rafendi Djamin, director of Southeast Asia and Pacific Program of the London-based Amnesty International, sent a letter to Vietnamese Deputy Minister of Foreign Affairs Nguyen Thanh Son, who is also general director of the Permanent Office on Human Rights of Vietnam, to urge Vietnam's government to release the two young men unconditionally and immediately.
According to the information that Amnesty International received, since his arrest last year, Duy was unable to maintain significant contact with his family. He was not allowed to hire a lawyer of his choice and had to accept a lawyer appointed by the local authorities.
Duy was reportedly denied family visits by the authorities and the only correspondence he had been permitted with his family had been to send short notes confirming that he had received goods and materials that his family had delivered to him through the authorities of the facility where he is being detained.
Amnesty International said the continuing denial of Duy's access to his family may amount to cruel and inhuman treatment, in violation of the prohibition in Article 7 of the International Covenant on Civil and Political Rights in which Vietnam is a party and in Article 16 of the Convention against Torture (UNCAT), which was ratified by Vietnam in February 2015.
Saigon-based blogger Hoang Dung said the activities of Duy and An were not harmful for Vietnam's government. however, the Khanh Hoa province's police characterized their activities serious threat to national security in a bid to raise the local police prestige so they can get promotion.
Duy and An are among ten activists jailed on politically motivated charges this year. In late March, Vietnam imprisoned eight political dissidents and bloggers, including prominent blogger Nguyen Huu Vinh (aka Anh Ba Sam) and Nguyen Dinh Ngoc (aka Nguyen Ngoc Gia) with heavy sentences up to five years in jail.
Vietnam has also arrested a number of other activists, including human rights lawyer Nguyen Van Dai and his assistant Le Thu Ha, who were held from December 16 last year on allegation under Article 88 without being tried.
Vietnam has little tolerance for government criticism. It has used a number of controversial Penal Code articles such as Articles 79, 88, 245 and 258 to silence local dissent. According to the New York-based Human Rights Watch, Vietnam is holding around 130 prisoners of conscience.
At the 13th Human Rights Dialogue with Vietnam on August 4, Australia expressed concern regarding ongoing restrictions on civil and political rights, including freedom of expression, association and assembly.  It reiterated its serious concerns about the harassment, arrest and detention of peaceful human rights activists.  Canberra also called on Hanoi to amend or remove provisions in the Penal Code that criminalize peaceful dissent.