Vietnam to Try Two Pro-democracy Activists on Subversion Charges after Nearly 15 Months of Detention, Hard Sentences Expected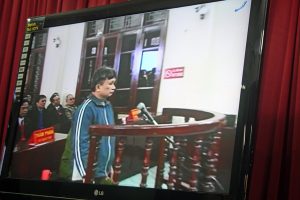 [themify_box style="blue comment rounded"]If found guilty, the two political dissidents may face imprisonment of between twelve and twenty years, even capital punishment, according to Vietnam's current law.[/themify_box]
By Defend the Defenders, December 6, 2016
Vietnam's authorities will bring two democracy campaigners Tran Anh Kim and Le Thanh Tung to court on charge with attempting to overthrow the government under Article 79 of the country's Penal Code on December 16, a local activist said.
The People's Court in the northern province of Thai Binh where the two activists reside, will try them on an open trial which will be likely inaccessible for the defendants' relatives, friends and social activists similarly to other previous political cases.
If found guilty, the two political dissidents may face imprisonment of between twelve and twenty years, even capital punishment, according to Vietnam's current law.
Mr. Kim, 67, was arrested on September 21 last year with a number of documents in his laptop which aimed to promote multi-party democracy to challenge the ruling communist party.
Mr. Kim, 66, is a former lieutenant of the Vietnam People's Army, and deputy head of the military political department of Thai Binh city before 1990s. He was arrested in July 2009 and charged for attempts to overthrow the people's government under Article 79. Later, he was sentenced to 5-and-a-half years in jail.
During 1995-2005, he participated in a number of groups which promote multi-party democracy, including the 8406 Bloc.
He assisted farmers whose land was illegally seized by local authorities in seeking justice, and participated in anti-corruption campaigns.
Mr. Kim was honored with the Hellman/Hammett prize given by the New York-based Human Rights Watch in 2009.
Mr. Tung, who was said to work in the same group with Mr. Kim, was a political prisoner, completing his four-year imprisonment in mid 2015. He was re-arrested in mid December last year when he went to work in the Central Highlands province of Gia Lai.
Mr. Tung is a member of pro-democracy Bloc 8406. After being freed, Mr. Tung committed to continue to fight for multi-party democracy in Vietnam.
Vietnam has used controversial articles such as 79, 88 and 258 in the Penal Code to silence local dissent. Around twenty activists have been imprisoned so far this year, and many others are under detention, including prominent human rights lawyer Nguyen Van Dai and well-known blogger Nguyen Ngoc Nhu Quynh.
Vietnamese communists have ruled the country for decades and they vow to keep the country under a one-party regime. They have ordered the security forces not to allow local dissidents to form opposition parties.
In addition to detention and imprisonment, the Vietnamese have also deployed other tactics to silent local dissidents, social activists and human rights defenders, including assaulting, blocking businesses of them and their relatives and attacking their private residences with dirty substances.