Vietnam Prisoner of Conscience Still Placed in Incommunicado since Being Arrested in Late 2015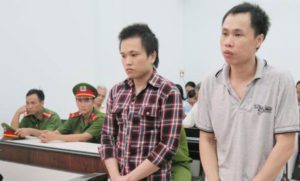 Defend the Defenders, December 31, 2016
Authorities in Vietnam's central province of Khanh Hoa have placed Nguyen Huu Quoc Duy in incommunicado since his arrest in late November of 2015, not allowing him to meet with his mother and relatives nor receive supplements from his family.
Speaking with Defend the Defenders, Mrs. Nguyen Thi Nay, the mother of Duy, said she was not even permitted to attend the trial on August 23 and the appeal hearing on December 26 against her son who was accused of conducting anti-state propaganda under Article 88 of the country's Penal Code.
In August, the People's Court in Khanh Hoa province sentenced Duy to three years in jail and the Higher People's Court in Danang City upheld the sentence. His cousin Nguyen Huu Thien An was sentenced to two years in prison in the same case.
Mrs. Nay said authorities in Khanh Hoa have rejected to allow her to meet with Duy. They have also refused to receive supplements of food and basic goods she wants to send him given the fact that prisoners, especially prisoners of conscience have not been provided with enough food and medical services.
Some sources told her that most of the time Duy is placed in solitary confinement. He was not permitted to meet with his lawyer before the appeal court to prepare for his defense, she noted, adding he was not allowed to hire a lawyer of his choice and had to accept a lawyer appointed by the local authorities in both two courts.
The online postings of Duy and An were not harmful for Vietnam's government. However, the Khanh Hoa province's police characterized their activities serious threat to national security in a bid to raise the local police prestige so they can get promotion, said some activists.
Before and after the two courts, the U.S.'s government and many international human rights organizations such as Amnesty International and Human Rights Watch condemned the sentences against Duy and An, saying the use of criminal provisions by Vietnamese authorities to penalize individuals exercising their right to freedom of expression and peaceful assembly is disturbing.
Amnesty International said the continuing denial of Duy's access to his family may amount to cruel and inhuman treatment, in violation of the prohibition in Article 7 of the International Covenant on Civil and Political Rights in which Vietnam is a party and in Article 16 of the Convention against Torture (UNCAT), which was ratified by Vietnam in February 2015.
You can find more details on the case of Duy and An at older articles on our website: http://www.vietnamhumanrightsdefenders.net/?s=%22nguyen+huu+Quoc+Duy%22
Duy and An are among 16 activists jailed on politically motivated charges this year. Others include prominent blogger Nguyen Huu Vinh (aka Anh Ba Sam) and Nguyen Dinh Ngoc (aka Nguyen Ngoc Gia) and prominent land right activist Can Thi Theu.
Vietnam has also arrested a number of other activists, including human rights lawyer Nguyen Van Dai and his assistant Le Thu Ha, who were held from December 16, 2015 on allegation under Article 88 without being tried, prominent human rights defender and environmentalist Nguyen Ngoc Nhu Quynh and well-known blogger Ho Van Hai (aka Bac sy Ho Hai.)
Vietnam has little tolerance for government criticism. It has used a number of controversial Penal Code articles such as Articles 79, 88, 245 and 258 to silence local dissent. According to the New York-based Human Rights Watch, Vietnam is holding around 130 political prisoners while Amnesty International said Vietnam has around 90 prisoners of conscience. Vietnam always denies holding any prisoners of conscience but only law violators.
http://www.vietnamhumanrightsdefenders.net/2016/08/23/vietnam-imprisons-two-activists-for-anti-state-propaganda-allegation/