Two Vietnamese Cops Blamed for Beating to Death One Gambler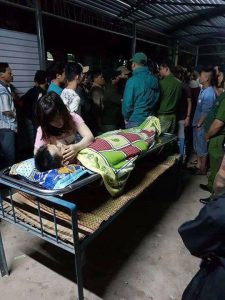 By Defend the Defenders, January 03, 2017
A group of angry residents in Vietnam's central province of Binh Dinh have beaten two local police officers, accusing them of causing the death of local citizen Pham Dang Toan during a police raid against gambling, state media has reported.
The family of Toan said that while trying to arrest a group of gamblers in Phuoc Quang commune on the evening of Jan 2, two police officers in Tuy Phuoc district assaulted Toan who died before being transferred to a local hospital.
The local residents said the two police officers, lieutenants Nguyen Ngoc Khanh and Tran Duc Thuan were drunk while beating Toan.
However, Senior Lieutenant Colonel Le Duc Minh, head of the Tuy Phuoc district police, said the police had not beaten Toan while making administrative check.
The police in Binh Dinh are conducting autopsy of the victim and will release the official information on the case, said Colonel Nguyen An Ninh, deputy head of the province's police.
Toan is one of a number of gamblers dying during the police's raids in the past few years, according to state media.