Hanoi Blogger under Constant Terror of Pro-government Thugs, Local Authorities Stay Aside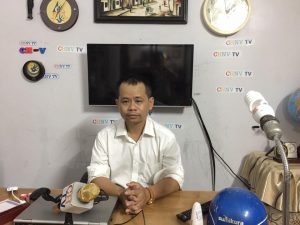 By Defend the Defenders, August 13, 2017
Pro-government thugs in Vietnam's capital city of Hanoi have constantly harassed local blogger Phan Van Bach in recent weeks but authorities have not intervened despite request from the victim.
Blogger Bach, who is conducting live streams programs on his Facebook account about the country's hot issues on environment, corruption, and other issues which are ignored by state media, said local thugs often come to his private residence in Trung Tu ward, Dong Da district to threaten to kill him because he is criticizing the government.
The thugs include military veterans and members of the local affiliates of the Vietnam Fatherland Front, the mass organization under umbrella of the ruling communist party.
Thugs also threw dirty messes made from decaying shrimp and waste to his apartment, Bach said.
Bach, who ran for a seat in the country's parliament in the general election in May last year but was eliminated unfairly by the Vietnam Fatherland Front, have reported the thugs' harassment to the local police, however, police have yet to take measures to protect his family from the thugs.
Bach is among several bloggers belong to the Chan Hung Nuoc Viet (Vietnam Revival Movement) which aims to fight for multi-democracy, human rights and transparency in Vietnam. A number of members of the movement has been imprisoned, including founder Tran Huynh Duy Thuc, Vu Quang Thuan, and Nguyen Van Dien. Mr. Thuc is serving his 16-year imprisonment on charge of subversion under Article 79 of the country's 1999 Penal Code while Mr. Thuan and Mr. Dien were arrested in early March and charged with "conducting anti-state propaganda" under Article 88 of the law.
Bach and other members of the movement have been summoned by Hanoi police for questioning their relations with Mr. Thuan and Mr. Dien.
The Communist Party of Vietnam and its government closely control media and impose severe censorship in social media. The government has used controversial articles of the Penal Code such as 79, 88 and 258 to silence local political dissidents and online bloggers.
According to the Committee to Protect Journalists, Vietnam is one of countries with highest number of imprisoned journalists while Reporters Without Borders ranked Vietnam at the 175th position out of 180 countries in its World Press Freedom Index in 2017.
Meanwhile, many Vietnamese activists have also been assaulted by pro-government thugs along with being harassed and persecuted from the government. Blogger Le My Hanh was attacked twice in May by pro-government thugs in Hanoi and Ho Chi Minh City but perpetrators remain unpunished despite denunciations from the victim.