Female Activist Summoned, Interrogated about Brotherhood for Democracy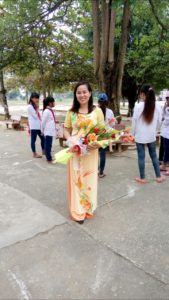 Defend the Defenders, September 06, 2017
On September 06, security forces in Vietnam's northern province of Ninh Binh summoned a local female teacher namely Pham Thi Lan to a local police station where police officers interrogated her about her online activities and membership of the Brotherhood for Democracy.
Ms. Lan said in the early morning of the first teaching day of the 2017-2018 school year, the principal handed over to her a summon letter issued by the province police's Investigation Agency requesting her to be at its office at 8 AM to work on her activities which are "harmful for national security."
When she was in her class, police officers came and requested her to go with them. They also asked the principal to get someone to replace her in teaching for several days.
Ms. Lan said in the agency's office, police officers questioned about her posting on social networks and her participation in Brotherhood for Democracy which is targeted by the security forces recently with the arrests of seven key members in recent months.
Police said she has to work with them for many days.
Ms. Lan is among thousands of Vietnamese netizens using Facebook and other social networks to express their opinions on the country's issues, including systemic corruptions, human rights violations, China's violations of the country's sovereignty in the East Sea (South China Sea) and environmental pollution. She has joined Brotherhood for Democracy, an online group fighting for human rights enhancement and multi-party democracy.
Due to her online activities, she has been unfairly treated by the educational authorities in her native Yen Mo district. Despite being a good teacher, she cannot get promotion and salary increase as well as other privileges she deserves for her good job.
Last month, she obtained a master degree on chemistry from Vinh University.
Considering Brotherhood for Democracy as a potential political opponent, the ruling Communist Party of Vietnam and its government has launched crackdown on the organization, arresting its seven key members, including co-founders Nguyen Van Dai and Pham Van Troi, and charged them with subversion under Article 79 of the country's 1999 Penal Code.
More arrests and detentions of the organization's members and other activists are expected as Vietnam is preparing for APEC Summit slated in Danang in November with participation of many global leaders including U.S. President Donald Trump.