Outspoken Priest Dinh Huu Thoai Barred from Going Abroad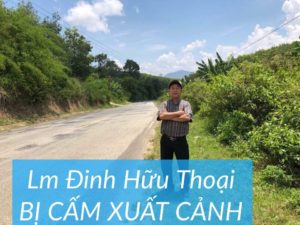 Defend the Defenders, May 14, 2018
Vietnam's authorities have blocked Catholic priest Giuse Dinh Huu Thoai from going to the US because of his voice about human rights and democracy, Defend the Defenders has learned.
On April 14, priest Thoai tried to leave the country from Bo Y international border gate in the Central Highlands province of Kontum, however, he was stopped by the border forces who said he cannot leave the country due to national security.
Theborder security officials said the travel ban imposed on the priest was made by the Social Security Department (A88) under the Ministry of Public Security.
This is the second blockage imposed on priest Thoai. In 2011, he was stopped by security forces in the Moc Bai international border gate in the southern province of Tay Ninh.
Priest Thoai came from the Tien Phuoc Redemptory Church, Danang diocese in the central province of Quang Nam. He has voiced to promote human rights and multi-party democracy as well as criticize government's policies in a number of issues, including the country's sovereignty and territorial disputes with China in the East Sea (South China Sea), systemic corruption, and power abuse.
Vietnam has imposed travel ban on around 100 activists, including three Catholic priests from the Saigon-based Ky Dong Redemptory Church and the Hanoi-based Thai Ha Redemptory Church.