Former Vietnamese Prisoner of Conscience Do Thi Minh Hanh Barred from Going to Germany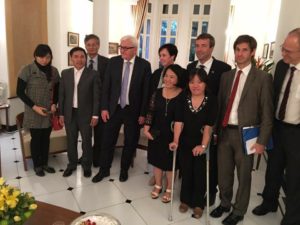 Defend the Defenders, May 17, 2018
On May 16, Vietnam's security forces in Ho Chi Minh City blocked former prisoner of conscience Do Thi Minh Hanh from taking an international flight to Germany to visit her mother.
Speaking with Defend the Defenders, Ms. Hanh, incumbent president of the independent Viet Labor Movement, said security forces in the Tan Son Nhat International Airport stopped her at a border gate when she was to board to a flight of the Turkish Airline.
The reason for barring was national security, security officers said, adding the ban imposed on her was renewed in May.
Her visa was granted by the German Embassy in Hanoi, Hanh told Defend the Defenders, adding she had a plan to go to Australia to visit her sick mother who is living with Hanh's older sister.
This is the fourth blockage against Hanh in the past three years, she told Defend the Defenders.
Ms. Hanh, 33, is a union activist. She was arrested in 2010 and charged with "Disrupting security" under Article 89 of the 1999 Penal Code, together with Nguyen Hoang Quoc Hung and Doan Huy Chuong. Later, she was convicted and sentenced to seven years in prison, but was released on June 26, 2014 thanks to the international community. Hung was given nine years in prison while Chuong was jailed seven years.
In 2018, the US Department of State recognized her as human rights heroine for her efforts to promote human rights and workers' rights in Vietnam.
Last year, Vietnam's security forces also caused troubles for her older sister Do Thi Xuan Tram who came from Austria to visit the family in Vietnam. When she wanted to return to Europe, authorities blocked her and agreed to permit her to leave the country after the invervention of the EU.
Vietnam has imposed foreign travel ban on around 100 activists. Many foreigners with the Vietnamese origin have also been not permitted to visit their home country.