Former Prisoner of Conscience Nguyen Xuan Nghia Detained, Interrogated for Sensitive Book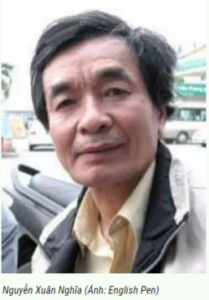 Defend the Defenders, May 23, 3018
On May 23, authorities in Vietnam's northern city of Haiphong detained former prisoner of conscience Nguyen Xuan Nghia and interrogated him for over six hours about a sensitive political book.
Mr. Nghia, a writer who spent six years in prison in 2008-2013 on allegation of "conducting anti-state propaganda" under Article 88 of the Penal Code, said he was questioned about the book Politics for Allbyprominent dissident journalist Pham Doan Trang, who has herself faced ongoing harassment since a meeting with the EU delegation last year.
Around 11 AM Wednesday, an unknown mancame to Mr. Nghia's private residence in Haiphong, with three copies of Politics for All. He said he wantedto donate two copies for the writer so Mr. Nghia couldsell them to get money to support prisoners of conscience, and asked the writer to explain some terminologies in the book. Immediately, police came and detained the activist, taking him to a city's police station.
The interrogation team included officers from the Ministry of Public Security and local police, Mr. Nghia said after returning home at 5:30 PM the same day. They tried to accuse him of storing and selling "toxic products" as the guest claimed with police that the books belongedto the activist and he came to buy one copy from the writer.
Reaffirming that the book is not his, Mr. Nghia used his right to silence as well as refused to sign the official police interviewtranscript, he told Defend the Defenders.
Mr. Nghia, who joined the Brotherhood for Democracy for two months last year, was summoned to the police station for ten days in November 2017 to clarify his membership to the pro-democracy online group. He narrowly escaped prosecution as the group is the main target of the government ongoing crackdown on local dissent, with ten senior members havingbeen convicted on subversion.
Politics for Allis the latest book of dissident journalist Pham Doan Trang. After the bookwascirculated across Vietnam, Trang was kidnapped and interrogated by security forces for several days.
Three years ago, Mr. Nghia was honored with the Freedom of Expression Prize bythe Norwegian Authors' Union for his writings, which aim to promote multi-party democracy and human rights. His wife went to Oslo to receive the prize on his behalf as the recipient was not allowed to travel abroad during his four-year house arrest following the prison term.
For more information about Mr. Nghia, see here.