Well-known Female Rights Activist Huynh Thuc Vy Detained, May Face Criminal Charge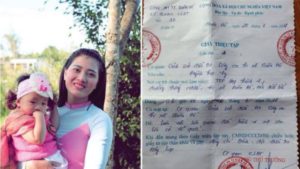 Defend the Defenders, August 9, 2018
On August 9, Vietnam's authorities detained well-known human rights advocate and blogger Huynh Thuc Vy after she denied police's request to go to a local police station for interrogation.
Around 30 police officers came to her private residence in Buon Ho district at 7 AM and took her away by force, said Mr. Pham Ba Hai, former prisoner of conscience and deputy director of Defend the Defenders.
Police blocked the areas, confiscating cell phones of Vy and her husband, Le Khanh Duy. They are still monitoring their house after taking her away, not allowing her husband to go out and others to come in.
Several hours after taking her to unknown direction, police came to search their house and took some items, including a laptop.
It is unclear whether Vy will be arrested for criminal charge. So far, police has not shown arrest warrant.
In recent weeks, police in Buon Ho issued four summoning letters to request her to go to a local police station for interrogation about her activities. She refused to obey by the police requests, saying their requests are not in line with Vietnam's law.
On June 10, Vy, whose daughter is 22 months old, was pictured with the Vietnamese national flag which was tained with paint. Someone said she intentionally defamed the flag that she has never recognized.
According to local observers, Vy may face allegation of Article 351. "Desecration of national flag, national emblem, national anthem" under Article 351 of the country's 2015 Penal Code.
Any person who deliberately desecrates the national flag, national emblem, national anthem shall face a penalty of up to three yearsin prison, according to the law.
Vy, 33, is the oldest child of former political prisoner Huynh Ngoc Tuan, who spent ten years in prison in 1992-2002 for sending his political book abroad.
She has posted a number of articles for human rights and multi-party democracy, including a book tittled "Nhận định Sự thật Tự do và Nhân quyền" (A view on Truth, Freedom and Human Rights). She also advocates for rights of ethnic minorities in the Central Highlands, often visiting families of prisoners of conscience in the region.
She is among founders of the unsanctioned organization Vietnam Women for Human Rights, and was its president before getting maternal leave.
She is banned from foreign trip as police confiscated her passport when she was on her way to attend a workshop on cyber security organized by Reporters Without Formers in Bangkok in June 2015.
She was interrogated many times in the past. In 2012, she was arrested by the police, put in a car that went for a 1,000kms. She was then interrogated continuously for 12 hours, before being dropped at a fuel station at midnight.
In May, the British Broad Corporation (BBC) listed Vy as one of five female activists who are risking their lives to protect others' rights. Other activists include Wang Yu from China, Maria Chin Abdullah from Malaysia, Anchana Heemina from Thailand and Phyoe Phyoe Aung from Myanmar.
Since 2013, Mr. Tuan's family has been suppressed by police. He was brutally assailed by plainclothes agents several times and suffered a number of severe injuries.
The family of his youngest child, Huynh Trong Hieu, was forced to flee to Thailand to seek for political asylum.
Under police's pressure, Vy and her husband Duy were forced to leave Ho Chi Minh City to Buon Ho several years ago where they are running coffee business.
Meanwhile, Mr. Hai, who is also a coordinator of the Former Vietnamese Prisoners of Conscience, said his post about the detention of Vy on Facebook was deleted after being shared by 1,000 other Facebookers.
Thedetention of Vy is part of Vietnam's ongoing crackdown on local dissent which started in late 2015 with the arrest of prominent human rights attorney Nguyen Van Dai and his assistant Le Thu Ha.
Vietnam arrested more than 40 activists last year. So far this year, the communist government has detained around 50 and convicted 67 activists in 2018.
More than ten activists have been sentenced to lengthy prison terms up to 15 years, including eight key members of the online group Brotherhood for Democracy.