HRD Huynh Thuc Vy Released but Probed for Affronting Vietnamese National Flag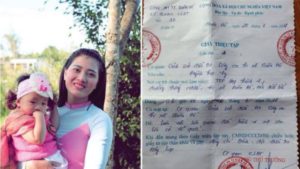 Defend the Defenders, August 10, 2018
Vietnamese authorities have released well-known human rights defender Huynh Thuc Vy but probed her for "affronting the national flag" under Article 276 of the country's Penal Code.
Vy, who was detained in the morning of August 9, came back to her private house in Buon Ho town, Dak Lak province at around 10 PM of the same day. She is still tired after more than ten hours being questioned by police officers from the Ministry of Public Security.
On Thursday, police forcibly detained her and issued decisions to prosecute her on allegation of affronting the red-yellow star flag. Police in Dak Lak province also issued decisions, the first places her under house arrest and the second bans her from international travel.
Police conducted her house search, confiscating a numbers of items, including a laptop and Ipad as well as books.
Speaking with Defend the Defenders, Vy said she was interrogated about her social activities and posts on social networks, including Facebook.
Observers said Vy whose daughter is 22 months old, still faces being arrested after two months when her daughter will be over two years old.
According to the 1999 Penal Code, those who deliberately affront the national flag and/or the national emblem shall be subject to warning, non-custodial form for up to three years or a prison term of between six months and three years.
Vy, a brave female activist, has publicly announced that she does never recognize the Vietnamese communist regime and its symbols, including the red-yellow star flag.
On September 1, 2017, she reportedly sprayed the Vietnamese flag with white paint and posted her picture with the tainted flag on her Facebook account. The red-yellow star flag has been representing the northern Vietnam before 1975 and the whole country after the nation's reunification in 1975.
Few hours after her detention, Amnesty International issued a statement calling for her immediate and unconditional release. "This arrest is nothing more than a politically-motivated attempt to silence one of the most powerful voices for human rights in Vietnam," said Clare Algar, Amnesty International's Director of Global Operations.
In her recent post on Facebook, Vy called the domestic activists and the international community to pay attention to her case to protect her from Vietnam's persecution.