Trial against Retired Teacher Dao Quang Thuc on Subversion Set on Sept 19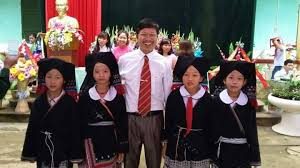 Defend the Defenders, September 8, 2018
The People's Court of Vietnam's northern province of Hoa Binh will conduct a trial against retired teacher Dao Quang Thuc on subversion on September 19, his family has informed Defend the Defenders.
According to the court's notice sent to his family, the court will be open for public, his daughter Dao Thi Trang told Defend the Defenders, adding the court also summoned his wife and son as witnesses of the trial.
The first-instance hearing of Mr. Thuc will be made more than 11 months after his arrest. He was held incommunicado until recently when he was permitted to meet with his lawyer Nguyen Ha Luan to prepare for his defense.
The primary school teacher was arrested on October 5 last year on allegation of "carrying out activities aiming to overthrow the government" under Article 79 of the country's 1999 Penal Code.
During his pre-trial detention, hehas been tortured and inhumanely treated, the family informed Defend the Defenders.
He was reportedly beaten by interrogation officers and suffered significant injuries so police transferred him to a hospital for treatment of these injuries.
Along with being tortured, her father was left without food for long time, Trang said.
In the first two months being held in the temporary detention facility under the authority of the Hoa Binh province's Police Department, the family was not permitted to supply food nor send money for him to purchase food from the detention facility's canteen, as other detainees can, Trang said, noting her fatherwas allowed to receive the family's supports from the third month.
Trang said once she was invited to go to the detention facility to work with police about her father's activities, she met a drunken officer namely Tu who told her that he had just conducted an interrogation with her father.
Due to inhumane treatment by police, her father has suffered a number of health issues including mental breakdown and high blood pressure, Trang told Defend the Defenders, adding he was healthy in September 2017, one month after retiring as a teacher in Trieu Phuc Lich primary school, Toan Son commune, Da Bac district.
Trang said police also summoned her mother and brother to the police station where they forced them to talk about her father's activities despite having no knowledge of them.
Mr. Thuc is expected to be convicted and sentenced to lengthy imprisonment given the jail sentences given to local dissidents in recent months. The highest punishment for subversion is life imprisonment or even death penalty, according to current Vietnam's law.
Nine activists have been convicted on allegation of subversion so far this year, and sentenced to between seven and 20 years in prison. Since the begining of 2017, Vietnam has imprisoned 22 activists and detained 14 others on allegation of criminal charges of the national security provisions in the Penal Code.