HCM City-based Female Activist Charged with Disruption of Security, Facing Lengthy Imprisonment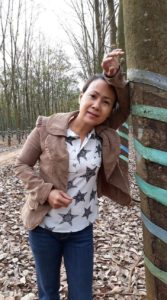 Defend the Defenders, October 2, 2018
Authorities in Vietnam's southern economic hub Ho Chi Minh City have arrested local activist Hoang Thi Thu Vang (Facebooker Hoàng Thu Vang) and charged her with "Disruption of security" under Article 118 of the country's 2015 Penal Code.
According to the city's police notice dated on September 14 that her family received today (October 2), she is held in the temporary dêtntion facility under the authority of the city's Department of Police.
It is likely her pri-trial detention will last four month at least and she will be held incommunicado, not allowed to meet with her lawyers and relatives during the pre-trial detention, a common practice Vietnam's police apply in politically motivate cases.
Mr. Vang, 52, faces imprisonment of up to 15 years in prison, if is convicted, according to the current Vietnamese law.
Ms. Vang, who advocates for enhancing food safety, was reportedly arrested on September 3 during the occasion of the country's Independence Day (September 2). She has shared and posted numerous articles about the country's issues. She was said to participate in the mass demonstration in HCM City in mid-June.
During the first week of September, Vietnam's security forces arrested and kidnapped dozens of activists in a bid to prevent mass protests. Of the detainees, four activists were convicted on allegation of "abusing democratic freedom" under Article 331 and sentenced to between 15 and 30 months in prison, one was charged with "conducting anti-state propaganda" under Article 117 of the 2015 Penal Code. Seven members of the unsanctioned group Hien Phap (Constitution) are still held incommunicado as the police in HCM City have yet informed their families about their arrests, detentions and charges.
In order to keep the country under a one-party regime, the ruling Communist Party of Vietnam and its government has intensified crackdown on local dissent and online bloggers.
So far this year, Vietnam has arrested 24 activists and sentenced 33 human rights defenders to a total 225 years and six months in prison and 56 years of probation. Environmentalist and democracy activist Le Dinh Luong was given the record lengthy sentence of 20 years in prison and five years of probation.
In addition, the communist regime has convicted 60 protesters on allegation of "disrupting public order" under Article 318 of the Penal Code, sentencing 51 of them to between eight months and 54 months in prison and giving eight of them probation of between five and 18 months.