Blogger Ngo Van Dung Charged with Disruption of Security, Allegation of Six Other Members of Hiến Pháp Group Unknown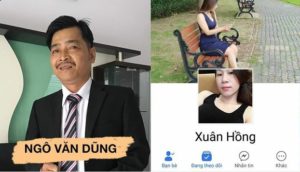 Defend the Defenders, October 5, 2018
Vietnam's communist regime has charged human rights advocate and citizen journalist Ngo Van Dung with "Disruption of security" under Article 118 of the country's 2015 Penal Code, his wife Kim Nga has told Defend the Defenders.
Mrs. Nga said in the morning of October 5, more than one month from the day her husband was arrested in Ho Chi Minh City, she received a notice of the Security Investigation Agency under the city's Police Department.
According to the document dated on September 21, Mr. Dung "had acts which disrupt security" and he is now probed by HCM City's police. Currently, Mr. Dung is held in the temporary detention facility of the city's police located in Phan Dang Luu street.
It is likely Mr. Dung will be held incommunicado during the investigation period which lasts four months at least.
Mr. Dung went missing on September 4's morning after conducting a live stream on his Facbook account (Ngo Van Dung). At noon of the same day, his wife received a SMS message from his cell phone's number that he was arrested by police and held in Ben Nghe ward's police station.
His family had received any notice from the police of HCM City until today, the wife confirmed. She went to different units of the city's police but received any confirmation about his arrest and detention.
Two week ago, she went to the temporary detention facility of the city's police and the facility's authorities verbally admitted that they are holding him.
Mr. Dung is one of the nine members of the unregistered group Hiến Pháp (Constitution) who were arrested on September 1-4. Others are Do The Hoa, Hung Hung, Ho Dinh Cuong, Tran Hoang Lan, Doan Thi Hong, Tran Phuong, Pham Thao and Huynh Truong Ca.
Mr. Ca, who was arrested on September 1, was charged with "Making, storing, spreading information, materials, items for the purpose of opposing the State of Socialist Republic of Vietnam" under Article 117 of the Penal Code.
Police released Mr. Thao after interrogation in several days.
Defend the Defenders contacted with the families of Ms. Hong and Mr. Hoa but they said they have not received notices from the city's police about the arrests and detentions of the two activists.
Being accused of causing disruption of security, Mr. Dung is facing imprisonment of up to 15 years in prison, according to the current Vietnamese law.
Hiến Pháp was established on June 16, 2017, striving to educatepeople abouthuman rights as well as political and civil rights by disseminating Vietnam's 2013 Constitution. Its members were leading figures in the mass demonstration on June 10 in HCM City which aimed to protest the Vietnamese parliament's plan to approve two bills on Special Economic Zones and Cyber Security.
Fearing that local residents may hold another mass protest in the first week of September on the occasion of the country's Independence Day (September 2), the police in HCM City conducted a raid to arrest local activists who used social networks to call for peaceful demonstration.
Along with arresting members of the Hiến Pháp group, HCM City's police also detained Huynh Thi Thu Vang and charged her with Article 118. Vang, 52, is working to promote food safety and warn public about abuse of toxic chemicals in food production, processing and preservation.
Vietnam's crackdown on local dissidents and online bloggers is intensified, local observers said.
According to the statistics of Defend the Defenders, Vietnam has arrested 24 activists so far this year, and convicted 33 human rights defenders, sentencing them to a total of 225.5 years in prison and 56 years of probation. In addition, the communist regime has convicted 60 people for their participation in the mass protest in mid-June, giving 51 of them between eight and 54 months in prison and eight between five and 18 months of probation. The remaining, Vietnamese American William Anh Nguyen was deported to the US.
The communist nation is holding 246 prisoners of conscience, according to NoW!Campaign, a coalition of 14 domestic and international NGOs, including Defend the Defenders, Boat People SOS (BPSOS), Civil Rights Defenders (CRD) and Front Line Defenders (FLD).