Former Vietnamese Prisoner of Conscience Tran Thi Nga Honored with Engel-du Tertre Award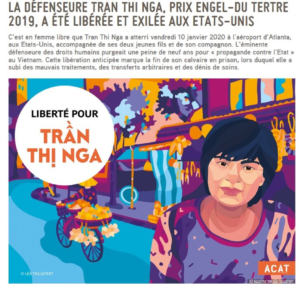 Defend the Defenders, January 29, 2020
The France-based human rights group named Action by Christians for the Abolition of Torture (ACAT-France) has decided to honor former Vietnamese prisoner of conscience Tran Thi Nga for her contribution against torture and inhumane treatment.
The prize named after ACAT-France's founders Hélène Engel và Edith du Tertre, will be handed over to the recipient in a ceremony scheduled in Paris on February 1.
Mrs. Nga will become the first activist in Asia being awarded the prize since its debut six years ago. Winners of the prize in previous years include a Mexican human rights defender who works against enforced disappearance, political activist Naama Asfari in Western Sahara, female human rights defender Luaty Beirao from Angola and a journalist in Erythrea.
Nga, 43, is a worker rights activist and a human rights defender. She also participated in many peaceful demonstrations in Hanoi in 2011-2016 to protest China's violations of Vietnam's sovereignty in the East Sea (South China Sea).
Due to her social engagement, she and her two kids were detained, assaulted and harassed many times by Vietnam's security forces. In February 2017, she was arrested and charged with "conducting anti-state propaganda" under Article 88 of the country's Penal Code 1999. In the same year, she was convicted and sentenced to nine years in prison and three years of probation.
During the pre-trial detention and prison, she always fought against torture and inhumane treatment committed by police officers.
In early January, Nga was freed but forced to live in exile in the US, together with her family.
ACAT-France is a member of the World Coalition Against Torture.