One Year After Being Abducted in Bangkok, Former Prisoner of Conscience Truong Duy Nhat Sentenced to Ten Years in Prison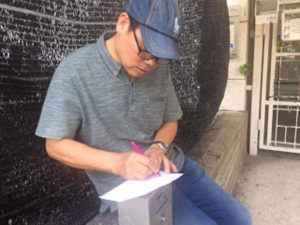 Defend the Defenders, March 9, 2020
Former prisoner of conscience Truong Duy Nhat, who was kidnapped in Bangkok in late January 2019, has been convicted of "Abuse of power or position in performance of official duties" under Article 356 of Vietnam's Penal Code.
In the trial carried out by the People's Court of Hanoi on March 9, Mr. Nhat, who was convicted of "abusing democratic freedom" for his posts criticizing the communist regime and sentenced to two years in prison in 2013, was given ten years of imprisonment as he was found guilty of causing the state asset loss of VND13 billion ($560,000) when he was the central region office's representative of the state-run Dai Doan Ket newspaper in 2016.
According to his lawyer Dang Dinh Manh, Nhat did not admit his wrongdoings during the trial and his lawyer also proved that Nhat is innocent. He said he worked under the direction of the leadership of the newspaper which belongs to the Vietnam Fatherland Front (VFF), the mass organization set up by the ruling communist regime. VFF has the power to decide who is eligible for being candidates for the country's parliament elections which have been manipulated by the party.
Mr. Nhat, who was considered a prisoner of conscience after being imprisoned for his writing in 2013, was reportedly abducted on January 26, 2019, by Thai security officers in a supermarket in Bangkok. Later, he was handed over to Vietnam's security forces who took him back in Vietnam and from January 28, he was held in a detention facility under the authority of the Hanoi Police Department.
One day before being kidnapped, Nhat registered as a political asylum to the UN High Commissioner on Refugees (UNHCR)'s Office in Bangkok.
In a meeting with his lawyers in the Hanoi-based T16 detention facility, Nhat confirmed that he was illegally arrested by the Thai police.
Initially, he was investigated for illegally acquiring property but as investigators failed to find sufficient evidence for the charge and the communist regime changed the allegation for him.
Nhat is among 12 Vietnamese being imprisoned for their writing, according to the Committee to Protect Journalists while some unofficial sources said he was kidnapped and taken to Vietnam as he holds secret information for many senior officials of the regime who do not want this information to become public.
Shortly after his abduction in Bangkok more than one year ago, Amnesty International issued a public statement calling on authorities in Thailand and Vietnam conduct an investigation about his disappearance in Bangkok and later being in police custody in Hanoi. Bangkok and Hanoi remained silent.
Meanwhile, the People's Court of Ho Chi Minh City has suddenly canceled the first-instance hearing scheduled on March 10 against eight members of the unregistered group Hiến Pháp (Constitution) without pointing out reasons. The activists, being kidnapped in early September 2018 and held incommunicado for more than one year, were charged with "disruption of security" and face imprisonments up to 15 years.