Vietnam Anti-corruption Activist, Citizen Journalist Do Cong Duong Charged with Abusing Democratic Freedoms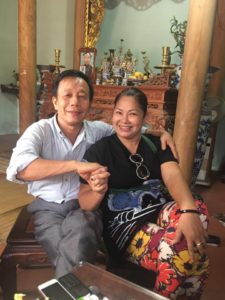 Defend the Defenders, April 24, 2018
Authorities in Vietnam's northern province of Bac Ninh have changed the charge against local anti-corruption campaigner and citizen journalist Do Cong Duong from "causing public disorders" to "Abusing democratic freedoms to infringe upon the interests of the State, the legitimate rights and interests of organizations and/or citizens" under Article 331 of the country's 2015 Penal Code.
Hanoi-based lawyer Ha Huy Son, who was hired by Mr. Duong's family to provide legal counseling for him, said the accusation was changed on April 16, three months after the activist was detained.
Mr. Duong, 54, was arrested on January 26 when he was filming a land seizure in the neighbor commune of Tam Son in Tu Son town.
Mr. Nguyen Huu My, 70, a retired state official and fellow of Duong, said on that day he and Mr. Duong went together to Tu Son town and they saw many police and militia participated in seizuring land of residents in Chuc village. The two guys took their cell phones and filmed the scence.
Three minutes later, police detected their filming activities and detained Duong, took him to the Tu Son town police's headquarters.
On the 9th day of detention, Tu Son police informed Duong's family that he was charged with "causing public disorders."
Being charged with "Abusing democratic freedoms," Mr. Duong is facing imprisonment of up to seven years, if convicted, according to the current Vietnamese law.
Mr. Duong is an activist on land issue. Together with other local residents, he filled a letter to the state's leaders to accuse Tu Son town's government of illegal land seizure.
Duong is also a citizen journalist, producing hundreds of video clips and posted on his Facebook accountto report local officials' corruption and cronyism, including provincial communist leader Nguyen Nhan Chien, who has big houses and had promoted numerous relatives to key positions in province's agencies. The state-run media has also covered news affirming the information unveiled by Mr. Duong.
Due to his anti-corruption activities, Duong and his family have been suppressed by local authorities. He was summoned to police station for interrogation many times. Police also came to his private residence to threaten him.
His house has been attacked with dirty messes while his children have been discriminated in schools.
The arrest and charge of Duong are likely reprisal for his efforts to fight illegal land grabbing and state officials' corruption, said his fellow My while lawyer Son said authorities in Bac Ninh and Tu Son are seeking to silence the anti-corruption activist and citizen journalist without respecting the country's law and the presumption of innocence.
Land grabbing is a systemic problem in Vietnam where all land belongs to the state and local residents have only right to use it. The central government and local governemtns are authorized to seize any land from citizens for socio-economic development without paying adequate compensation.
In many localities, authorities have grabbed local residents' land at very low compensation prices and give it to property and industrial developers at prices much higher.
Thousands of farmers losing their land in that way are gathering in big cities such as Hanoi and Ho Chi Minh City to demand for justice. The land petitioners are treated like second-class residents by the government. They are living in streets and house with cheap renting fees, being subjects of torture and detention by security forces.
In Vietnam where communists have ruled for decades, the government strictly controls media. Dozens of bloggers and independent journalists have been harassed and jailed.
Vietnam's press freedom index is ranked at the 175th out of 179 countries in the Reporters Without Borders' 2017 Report.