Vietnamese Lawyers Urge Parliament not to Approve Bill on Cyber Security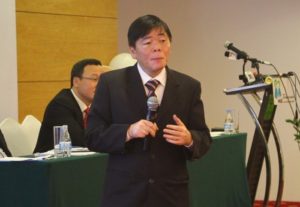 Defend the Defenders, June 11, 2018
A group of 74 Vietnamese lawyers have signed a joint petition urging the country's highest legislative body National Assembly not to pass the bill on Cyber Security, the vote of which is scheduled on June 12.
The petition, initiated by Hanoi-based attorney Tran Vu Hai and sent to the parliament on June 11, states that the signed lawyers found the bill contains many loopholes which may be used by interest groups to violate basic human rights enshrined in the 2013 Constitution.
The bill, if is approved, will affect the right to freedom of expression so have negative impacts to the country's socio-economic development as well as violate Vietnam's international commitments, said the petitioners who came from many different cities and provinces.
After listening to opinions of experts and people, the parliament decided to postpone the discussion and approval of the bill on Special Economic Zones, and it is a wise move, the lawyers said, saying the National Assembly should do the same for the bill of Cyber Security.
The bill for Cyber Security should be a object for further discussion and perfection, the lawyers said.
In case that the parliament decides to conduct the vote on the bill, all legislators should vote against the bill, the lawyers said.
In addition to their signatures, the lawyers also presented a list of thousands of people in other professions who oppose to the approval of the bill.
The bill, built by the Ministry of Public Security, met strong protest among Vietnamese and foreign governments and international human rights organizations.
The US and Canada, Human Rights Watch and Amnesty International have urged Vietnam to delay the vote on the bill on cyber security until it aligns with international standards. In its press release, the US Embassy in Vietnam said the bill may present serious obstacles to Vietnam's cybersecurity and digital innovation future, and may not be consistent with Vietnam's international trade commitments. Meanwhile, Amnesty International and Human Rights Watch expressed their concerns that the bill aims to silence government critics and affect the basic right to freedom of expression.
On Sunday (June 10), tens of thousands of Vietnamese across the nation went on streets to protest the bill and the draft law of Special Economic Zones, and some peaceful demonstrations continues in some localities, especially in Ho Chi Minh Cith.