Lawyer Permitted to Meet with Pro-democracy Activist Le Dinh Luong to Prepare for His Defense after One Year of Detention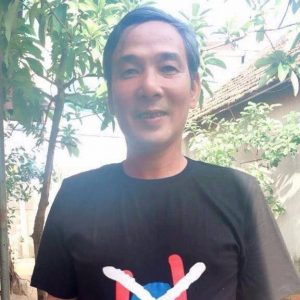 Defend the Defenders, July 17, 2018
Authorities in Vietnam's central province of Nghe An have issued a letter allowing Ho Chi Minh City-based lawyer Dang Dinh Manh to meet with his client jailed pro-democracy campaigner Le Dinh Luong to prepare for his defense.
According to the letter of the province's People's Procuracy dated on July 4, Mr. Manh is permitted to meet with Mr. Luong in Nghi Kim temporary detention facility where the latter has been held incommunicado since being detained on July 24 last year.
The move means that the investigation against Mr. Luong ended and he will be tried soon on allegation of "Carrying out activities aimed at overthrowing the people's administration" under Article 79 of the 1999 Penal Code.
Currently, lawyer Manh is in his business trip in the US and he is expected to return to Vietnam in late July.
Mrs. Nguyen Xoan, the daughter-in-law of the imprisoned activist told Defend the Defenders that her family has hired lawyer Manh and Hanoi-based lawyer Ha Huy Son to provide legal assistance for her father-in-law, however, lawyer Son has not yet received approval from Nghe An province's authorities to meet with his client.
Authorities in Nghe An have held Mr. Luong incommunicado for nearly one year.
Mrs. Xoan told Defend the Defenders that her family has no information about him since his arrest inlate July last year. Her family has not beenpermitted to send him some medical products he needs for some diseases.
His relatives were brutallybeaten by the local policeseveral times when they requested for meeting with him.
In mid Agust last year, his relatives and friends went to the headquarters of the Nghe An province's Department of Public Security to ask about him, police placed 15 of them, including female, to a closed room and brutally beat them.
One month earlier, four days after the Nghe An police kidnapped Luong and later announced the probe against him, police in Ho Chi Minh City also assaulted Mrs. Xoan and her husband Le Dinh Hieu, son of the detained activist.
Mr. Luong, 53, is a veteran in the war against China's invasion of Vietnam's northern region in 1980s. State media reported that Mr. Luong is an extremely dangerous element belonging to the U.S.-based Viet Tan (Vietnam Reform Party) which is labeled by Vietnamese authorities as a terrorist organization.
According to the Nghe An police, Mr. Luong once called for boycotting the elections of the parliament and local People's Councils while capitalizing on the environmental disasters caused by Formosa to cause social disorders and instigate demonstrations.
Mr. Luong himself was attacked by under-covered policemen in the Central Highlands province of Lam Dong in August 2015 when he visited Tran Minh Nhat, who then completed his sentence on alleged subversion. Many other activists were also beaten in that incident.
Thearrest of Luong is part of Vietnam's intensified crackdown on local political dissidents, human rights advocates, social activists and online bloggers.Since 2017, more than 50 activists have been arrested and charged with vague articles in the national security provisions such as subversion and "conducting anti-state propaganda" of the Penal Code. Most of them have been convicted and sentenced to severe imprisonments up to 16 years in prison.
Among convicted are prominent human rights attorney Nguyen Van Dai, who was sentenced to 15 years in prison and five years of probation, human rights defender Nguyen Ngoc Nhu Quynh, a well-known blogger with penname Mother Mushroom, who was given ten years in prison, and environmentalist and labor activist Hoang Duc Binh, who was sentenced to 14 years in prison.
If convicted, Luong face imprisonment of up to life imprisonment or even death punishment, according to the current Vietnamese law.