ABOUT
---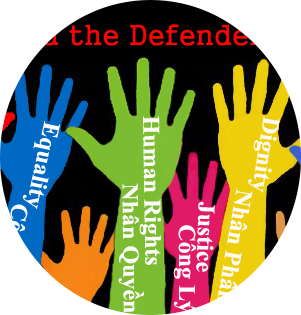 Defend the Defenders
| May 20, 2018
On May 16, Vietnam's security forces blocked Do Thi Minh Hanh, former prisoner of conscience and incumbent president of the unsanctioned organization Viet Labor Movement, from going to Europe to visit her sick mother who stays with Hanh's older sister in Austria.
National security is the reason for the blockage security officers in the Tan Son Nhat International Airport told Ms. Hanh when she was on her way to Germany by a flight of the Turkish Airlines. The ban for her travel abroad was renewed in May, one of the officers informed her orally.
Two days earlier, Vietnam's security forces also barred Catholic priest Dinh Huu Thoai from leaving the country in his way to the US. The priest has been the third father from Redemptory Church blocked from going abroad in the last few years.
Jailed young activist Tran Hoang Phuc, who was convicted and sentenced to six years in prison and four years under house arrest on allegation of "conducting anti-state propaganda" under Article 88 of the 1999 Penal Code, has been denied medical treatment for his hepatitis C disease. Five lawyers namely Trinh Vinh Phuc, Nguyen Van Mieng, Dang Dinh Manh, Doan Thai Duyen Hai and Le Van Luan have sent a joint petition to Vietnam's authorities calling for permision to send him to a specialized medical facility for the disease treatment and allow him to receive medical drugs from his family.
Amnesty International has issued a statement calling on Vietnam's government to immediately and unconditionally release prisoner of conscience Tran Anh Kim, 69, who is suffering a number of serious diseases while serving his 14-year imprisonment for exercising his basic rights to freedom of expression and assembly.
Suffering a number of serious health conditions including high blood pressure and aprostate infection, Mr. Kim, 69, may not survive his lengthy imprisonment"as authorities have denied him adequate medical care, his wife said.
On May 15-16, a delegation of foreign diplomats from the US and European countries met with dissidents based in Ho Chi Minh City to discuss about Vietnam's human rights situation. They also met with representatives of the Interfaith Council to talk about religious freedom in the Southeast Asian nation.
In April, four practitioners of Falun Gong were convicted and sentenced to a total of nearly nine years for allegation of stealing their own properties. The case is among many harassments members of Falun Gong nationwide have been suffered in recent years.
===== May 14 =====
Outspoken Priest Dinh Huu Thoai Barred from Going Abroad
Defend the Defenders:
Vietnam's authorities have blocked Catholic priest Giuse Dinh Huu Thoai from going to the US because of his voice about human rights and democracy, Defend the Defenders has learned. On April 14, priest Thoai tried to leave the country from Bo Y international border gate in the Central Highlands province of Kontum, however, he was stopped by the border forces who said he cannot leave the country due to national security. Theborder security officials said the travel ban imposed on the priest was made by the Social Security Department (A88) under the Ministry of Public Security. This is the second blockage imposed on priest Thoai. In 2011, he was stopped by security forces in the Moc Bai international border gate in the southern province of Tay Ninh. Priest Thoai came from the Tien Phuoc Redemptory Church, Danang diocese in the central province of Quang Nam. He has voiced to promote human rights and multi-party democracy as well as criticize government's policies in a number of issues, including the country's sovereignty and territorial disputes with China in the East Sea (South China Sea), systemic corruption, and power abuse. Vietnam has imposed travel ban on around 100 activists, including three Catholic priests from the Saigon-based Ky Dong Redemptory Church and the Hanoi-based Thai Ha Redemptory Church. ===== May 15 =====
Foreign Diplomats Meet with Saigon-based Dissidents, Human Rights Issues on Focus
Defend the Defenders:
On May 15, foreign diplomats from European countries and the US held a meeting with Saigon-based dissidents in Ho Chi Minh City to discuss the current situation of human rights in the country, said Mr. Pham Ba Hải, former prisoner of conscience and the founder of Defend the Defenders. The guests included diplomats from the US, the UK, Germany, Italia, Sweden, the Netherlands and Spain while Mr. Hai, Dr. Pham Chi Dung, president of the unsanctioned Independent Journalist Association of Vietnam, and former prisoner of conscience Le Cong Dinh presented the local dissent. During the two-hour meeting in a local cafeteria, the two sides discussed Vietnam's human rights violations with the ongoing crackdown on local dissent, and legal issues, including articles in the draft law of cyber security, the Law on Religions and Beliefs, and the Land Law which limit human rights or create ground for land grabbing across the nation. The EU-Vietnam Free Trade Agreement was also on focus as the dissidents urged the EU's Parliament not to approve the pact unless Vietnam improves its human rights situation. Vietnam has intensified its persecution against local activists, arresting and convicting nine human rights defenders in 2015, 11 in 2016 and 47 in 2017, said the dissidents. The sentences given to the convicted activists have also been more severe with the longest sentence being16 years in prison. In the morning of the next day, the foreign diplomats held a meeting with representatives of the unregistered organization Inter-faith Council in the Giac Hoa pagoda in Binh Thanh district. The hosts informed the guests about persecutions against religious communities, especially those not recognized by the government. The plan of the Ho Chi Minh City's authorities to seize the land on which Thu Thiem Catholic Church resides is also discussed. ---------------------
Four Falun Gong Members Sentenced to Nearly 9 Years in Prison for Accusation of Stealing Their Own Properties
Defend the Defenders
: Four Vietnamese citizens who have been practicing Falun Gong have been sentenced to a total of nearly nine years in prison on the allegation of stealing their own properties, Defend the Defenders has learned. On the morning of April 11, the People's Court in the northern province of Thai Nguyen sentenced Tran Thi Ngoc, 56 to 42 months, Tran Thi Tien, 57, to 36 months in prison, Ms. Nguyen Thi Hien, 23 to 15 months and Mr. Tran Kim Chung, 57, to 12 months in prison. According to the indictment, the four defendants, together with other fellow, were exercising Falun Gong at the Vo Nguyen Giap square in Thai Nguyen city. Police from the Trung Vuong police came and accused them of causing public disorders so ordered them to stop and confiscated their louders and other items without a writen statement. After police officers took their properties, the group went to the Trung Vuong police station to request for their items. They found their properties in the station and got back, and returned to their home. On the next day, Thai Nguyen province's police launched a probe, accusing the Falun Gong's practitioners of stealing properties. Falun Gong practitioners are under serious discrimination in Vietnam. They are subjects of police's intimidation and persecution. There have been many cases in which they were beaten and attacked by police in uniform, plainclothes agents and militia. ===== May 16 =====
Former Vietnamese Prisoner of Conscience Do Thi Minh Hanh Barred from Going to Germany
Defend the Defenders:
On May 16, Vietnam's security forces in Ho Chi Minh City blocked former prisoner of conscience Do Thi Minh Hanh from taking an international flight to Germany to visit her mother. Speaking with Defend the Defenders, Ms. Hanh, incumbent president of the independent Viet Labor Movement, said security forces in the Tan Son Nhat International Airport stopped her at a border gate when she was to board to a flight of the Turkish Airline. The reason for barring was national security, security officers said, adding the ban imposed on her was renewed in May. Her visa was granted by the German Embassy in Hanoi, Hanh told Defend the Defenders, adding she had a plan to go to Australia to visit her sick mother who is living with Hanh's older sister. This is the fourth blockage against Hanh in the past three years, she told Defend the Defenders. Ms. Hanh, 33, is a union activist. She was arrested in 2010 and charged with "Disrupting security" under Article 89 of the 1999 Penal Code, together with Nguyen Hoang Quoc Hung and Doan Huy Chuong. Later, she was convicted and sentenced to seven years in prison, but was released on June 26, 2014 thanks to the international community. Hung was given nine years in prison while Chuong was jailed seven years. In 2018, the US Department of State recognized her as human rights heroine for her efforts to promote human rights and workers' rights in Vietnam. Last year, Vietnam's security forces also caused troubles for her older sister Do Thi Xuan Tram who came from Austria to visit the family in Vietnam. When she wanted to return to Europe, authorities blocked her and agreed to permit her to leave the country after the invervention of the EU. Vietnam has imposed foreign travel ban on around 100 activists. Many foreigners with the Vietnamese origin have also been not permitted to visit their home country. ===== May 17 =====
Five Lawyers Call on Vietnam's Government to Provide Proper Treatment for Jailed Prisoner of Conscience Tran Hoang Phuc
Defend the Defenders:
Five Vietnamese lawyers have issued a joint statement calling on the authorities to provide proper medical treatment for jailed prisoner of conscience Tran Hoang Phuc. Mr. Phuc, 24, who was sentenced to six years in prison and four years of probation by the Hanoi People's Court in his first-instance hearing on allegation of "conducting anti-state propaganda" under Article 88 of the 1999 Penal Code on March 31 this year, is suffering from hepatitis C. Phucneeds special and timely treatment for his disease, otherwise his disease may develop into cirrhosis and liver cancer, said lawyers Trinh Vinh Phuc, Nguyen Van Mieng, Dang Dinh Manh, Doan Thai Duyen Hai and Le Van Luan. All of them are lawyers defending for Phuc and Vu Quang Thuan and Nguyen Van Dien in the same case. Vietnam's authorities have yet to respond to the lawyers' call. Currently, Phuc is held in the Temporary Detention Facility No. 1 under the authority of the Hanoi Police Department. He has appealed the court's decision taken on March 31. His appeal hearing is expected to be held in coming weeks. Phuc has not been allowed to meet with his family since being arrested on June 29, 2017. His mother was not allowed to attend his trial which was open for public. His mother said authorities in Hanoi have denied him from receiving medical drugs sent by his mother, saying there was no prescription made from public medical facility while the mother confirmed that she supplies the drugs according to the prescription given by a private hospital where he made a medical check-up before being arrested. Phuc was convicted for assisting Vu Quang Thuan and Nguyen Van Dien in posting their three video clips on their Facebook accounts and Youtube which were considered by Vietnam's authorities as "untrue" and defame the government. The arrest and detention of the trio are part of Vietnam's ongoing crackdown on local dissent. Since early 2017, Vietnam has arrested and convicted nearly 50 activists, many of them were sentenced to between three and 16 years in prison. The conditions in Vietnam's prisons are severe, especially for political prisoners. Prisoners have been left without adequate food and proper medical treatment along with being placed in incommunicado and isolated cells as well as torture and other ill-treatments. For more information on Mr. Phuc's case, go to archive on our website: http://www.vietnamhumanrightsdefenders.net/defenders-weekly/?post=tran-hoang-phuc ===== May 20 =====
Amnesty International Calls on Vietnam to Release Prisoner of Conscience Tran Anh Kim
Defend the Defenders
: On May 16, Amnesty International issued a
statement
calling on Vietnam's government to immediately and unconditionally release prisoner of conscience Tran Anh Kim, 69, who is suffering a number of serious diseases while serving his 14-year imprisonment for exercising his basic rights to freedom of expression and assembly. Aftermeeting her husbandon 1 May 2018, Nguyễn Thị Thơm told Amnesty International that Trần Anh Kim is suffering a number of serious health conditions including high blood pressure and aprostate infection which Trần Anh Kimdid receivesurgery for in 2017 but with no improvement. Mr. Kim's ongoing headaches have worsened whilst imprisoned, he has lost almost all sight in one of his eyes, and lost most his teeth causing him difficulty when eating. The prison authoritieshave not allowed him to go to hospital to receive teeth implants anddenied him accessing adequate medical treatment despite frequent requests from Tran Anh Kim and his family. He may not survive his lengthy imprisonment"as authorities have denied him adequate medical care, his wife said. Amnesty International urges the international community to pay special attention to Mr. Kim's case and write petition to request his freedom and proper medical treatment for his diseases to Vietnam's leadership. ====================