Vietnam Postpones Trial against Prominent Blogger AnhBaSam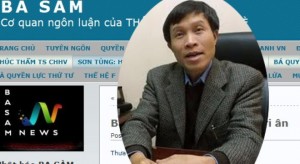 [themify_box style="blue, comment, rounded" ]After the arrests of Vinh and Thuy, the governments and politicians of the U.S., EU countries, and Canada as well as international human rights groups have called on the Vietnamese government to release the duo, saying they did nothing wrong but exercised their right of freedom of opinions and expression which is enshrined in the Vietnamese Constitution.[/themify_box]
by Vu Quoc Ngu, Jan 13, 2016
Vietnam's communist government has postponed the trial scheduled on Jan 19 against prominent blogger Nguyen Huu Vinh (aka Anh Ba Sam) and his assistant Nguyen Thi Minh Thuy who are accused of "abusing freedom and democracy to infringe upon the interests of the state" under Article 258 of the country's Penal Code.
In its notice dated Jan 13 sent to the defendants' families and their lawyers, the People's Court of Hanoi said the judges will not be able to attend the trial which was set one day ahead of the 12th National Congress of the ruling Communist Party of Vietnam.
The court did not set new schedule for the trial.
Mr. Vinh and Ms. Thuy were arrested in May 2014 for posting articles on the news website AnhBaSam which was co-founded by Mr. Vinh and his colleagues several years earlier. The website, with numerous articles of independent bloggers, has attracted millions of readers in the communist nation where the government keeps tied censorship on state media.
Mr. Vinh, a 58-year-old son of a senior communist official, was accused of posting online articles carrying out "incorrect contents that aim to defame the party and state."
If proven guilty, they could face imprisonment of up to seven years, according to the Vietnamese law.
After the arrests of Vinh and Thuy, the governments and politicians of the U.S., EU countries, and Canada as well as international human rights groups have called on the Vietnamese government to release the duo, saying they did nothing wrong but exercised their right of freedom of opinions and expression which is enshrined in the Vietnamese Constitution.
The Vietnamese communist government has used controversial articles such as Article 79, 88 and 258 to silence local critics, social activists and human rights defenders.
The Paris-based Reporters Without Borders (RSF) said that independent news providers in Vietnam are subject to enhanced Internet surveillance, draconian directives, waves of arrests and sham trials in its annual Press Freedom Index released in December 2014.
Meanwhile, Vietnam's security forces have intensified crackdown against government critics, social activists and human rights defenders in recent months ahead of the ruling party's National Congress slated for Jan 20-28.
In recent months, Vietnam has arrested a number of dissidents, including human rights lawyer Nguyen Van Dai and his assistant Le Thu Ha, former political prisoners Tran Anh Kim and Le Thanh Tung and charged them of conducting anti-state propaganda under Article 88 of the Penal Code. The arrested activists could face imprisonment up to 20 years.
In addition, many activists have been brutally attacked by thugs and sometime by police officers. The victims include former political prisoners Tran Minh Nhat and Tran Ngoc Thach, labor activists Do Thi Minh Hanh and Truong Minh Duc, land rights activists Tran Thuy Nga and Nguyen Huy Tuan and prisoner of conscience Truong Minh Tam. In most recent cases on Jan 7-8, Mr. Tuan and Mr. Tam were kidnapped and robbed.
Many international rights groups have called on Vietnam to take measures to stop persecution against local dissident and conduct thorough investigation to bring perpetrators to court.