Many Vietnamese Activists Detained after Attending Peaceful Gatherings on 38th Anniversary of China's Invasion, Dozens of Others under House Arrest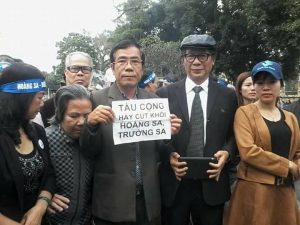 By Defend the Defenders, February 17, 2017
On February 17, Vietnam's security forces in Hanoi and Ho Chi Minh City harassed local activists who gathered in the center of the two cities to mark the 38th anniversary of China's invasion of the country's six northernmost provinces, detaining many of them for hours.
Hundreds of after activists gathered in Ly Thai To King memorial in Hanoi and General Tran Hung Dao memorial in Ho Chi Minh City to commemorate the thousands of fallen soldiers and civilians killed by the People's Liberation Army of China during the one-month military invasion, which started on February 17, 1979.
Authorities in the two cities deployed a large number of police officers, plainclothes agents and militia to the gatherings. Shortly after activists arrived, security forces demanded them to leave, telling them they were causing social instability.
A number of activists, including Nguyen Thi Kim Chi in Ho Chi Minh City and Nguyen Xuan Dien, Nguyen Lan Thang, Bach Hong Quyen, blogger Trung Nguyen, Dang Bich Phuong and Le My Hanh, were detained by the police.
The detainees were released after being interrogated for hours in police stations. Many complained that police confiscated their cell phones and destroyed all data of the equipment, including pictures and videos of the gatherings.
The governments of Hanoi and Ho Chi Minh City as well as other localities also deployed a large number of plainclothes agents to the private residences of local activists since the morning of February 16, placing them under de facto house arrest to prevent them from taking part in the gatherings. Victims include prominent dissidents Nguyen Dan Que, Pham Chi Dung and Le Cong Dinh in Saigon/Ho Chi Minh City, Nguyen Tuong Thuy, Pham Thanh, Nguyen Trung Linh, Le Anh Hung and Vu Quoc Ngu in Hanoi, and Catholic priest Phan Van Loi in Hue.
Some activists, including Phung The Dung and Nguyen Van Phuong from Hanoi, complained that police came for "administrative checks" late in the night of Thursday.
One month earlier, on January 19, Vietnam's authorities also violently suppressed peaceful demonstrations of local activists on the occasion of the 43rd anniversary of the loss of Hoang Sa (Paracels) to China, detaining and beating many of them before releasing them several hours later.
On February 17, 1979, China sent 600,000 soldiers to attack Vietnam's six northernmost provinces. During the month-long military invasion, the People's Liberation Army of China, equipped with tanks and modern artillery, killed around 50,000 Vietnamese soldiers and civilians. The Chinese invaders also destroyed infrastructure and houses in these areas.
The two communist countries held a border war until 1989 before agreeing to a ceasefire and normalized bilateral relations in the early 1990s.
In order to keep the country under a one-party regime, the ruling Communist Party of Vietnam has attached importance to its relations with China, considering the giant northern country as its closest political ally, although Beijing has never reciprocated this consideration.
Vietnam's economy is very dependent on China. Bilateral trade rose 8% to nearly $72 billion in 2016, with Vietnam registering a trade deficit of $28 billion, according to the General Department of Vietnam Customs.
A huge volume of substandard Chinese goods has been flooding Vietnam, while nearly all key infrastructure projects in Vietnam have been carried out by Chinese contractors who use outdated technologies and bring thousands of untrained workers to the project sites.
China and Vietnam are disputing over the Hoang Sa (Paracels) and Truong Sa (Spratlys) in the East Sea (South China Sea). Vietnam has peacefully administered the two archipelagos since the 17th century while China's military invaded the former and some reefs on the latter in the 1956-1988 period.