HCM City Activist Brutally Beaten by Plainclothes Agents, Militia Near Police Station after Suppressed Anti-China Protest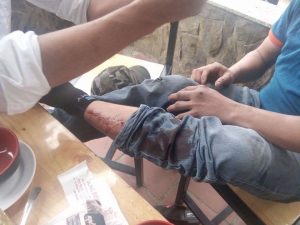 By Defend the Defenders, June 25, 2017
On June 25, plainclothes agents, militia and thugs in Ho Chi Minh City brutally beat local activist namely Huynh Anh Tuan near the police station of Ward 25, Binh Thanh district, activists said.
In the morning of Sunday, a small group of activists in HCM City held a peaceful demonstration to protest China's deployment of its HYSY-981 giant oil rig in Vietnam's exclusive economic zone in the East Sea (South China Sea). The protests was violently suppressed few minutes later by local security forces.
Police arrested some protesters, including a facebooker with nickname Pham Minh Ngoc and took them to the police station of Ward 25 on No. 340 Xo Viet Nghe Tinh street.
Blogger Huynh Anh Tuan went to the police station to gain information for the detainees. Before asking police, he was assaulted by plainclothes agents, militia and thugs who used batons attacked with iron nails to beat him, causing severe injuries on his body.
Tuan is one of numerous Vietnamese activist brutally beaten by police and plainclothes agents nationwide in the past few years.
Last week, Human Rights Watch released its report highlighting 36 assault cases against Vietnamese political dissidents, human rights campaigners, social activists and independent bloggers from early of 2016 to April 2017. Most of the attacked activists suffered severe injuries but none of perpettrators was investigated and tried.
HCM City is one of localities where many local activists were beaten by police and thugs, according to Human Rights Watch.
Vietnam's communist government rejected the report of the New York-based human rights organization, saying the report is based on incorrect information.