HRW Urges Vietnam to Free Government Critic Blogger Me Nam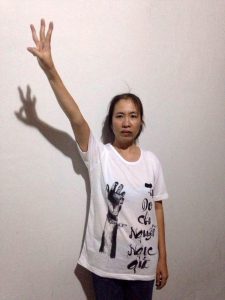 By Defend the Defenders, June 28, 2017
Vietnam should immediately free Nguyen Ngoc Nhu Quynh, a well-known blogger under penname Me Nam or Mother Mushroom, and drop all charges against her, Human Rights Watch has said.
The New York-based NGO made this statement on June 28, one day ahead of the open trial set for Ms. Quynh, who was arrested on October 10 last year and charged with "conducting propaganda against the state" under Article 88 of Vietnam's 1999 Penal Code.
The People's Court of Khanh Hoa province plans to hear her case on June 29 and Quynh faces imprisonment of between three and 12 years in jail if is convicted.
"It's outrageous to put Nguyen Ngoc Nhu Quynh on trial simply for using her right to free expression to call for government reform and accountability," said Phil Robertson, deputy Asia director at Human Rights Watch.
"The scandal here is not what Mother Mushroom said, but Hanoi's stubborn refusal to repeal draconian, rights-abusing laws that punish peaceful dissent and tarnish Vietnam's international reputation," he said.
Ms. Quynh wrote numerous articles on social and political issues including land confiscation, police brutality, and freedom of expression. She voiced support for fellow dissidents and publicly campaigned for the release of many political prisoners.
Above all, she advocated for a social and political environment free from fear.
Nguyen Ngoc Nhu Quynh participated in numerous public protests that advocated for human rights and a cleaner environment. She was subject to constant police harassment, intimidation, interrogation, and put under house arrest on numerous occasions to prevent her from attending important events.
State media reported that the police alleged that the evidence against Ms. Quynh for anti-state blogging included a file named "Stop police killing civilians." The file included data on 31 cases regarding people who died in police custody, which she and others had collected from state media. The police claimed that the file "bears a hostile viewpoint against the people's police force. The document makes the readers misunderstand the nature of the problem, offends and lowers the prestige of the people's police force, and harms the relationship between the people and the police force."
Many cases summarized in "Stop police killing civilians" had been documented and published by Human Rights Watch. According to Vietnam's Ministry of Public Security, reported by state media, from October 2011 to September 2014, there were 226 cases of death in detention facilities.
The police claimed that during the search of Nguyen Ngoc Nhu Quynh's house, they found many documents providing evidence of crimes. Among these documents were slogans such as "Fish Need Water," "The Country Needs Transparency," "Take Legal Action Against Formosa," "No Formosa," "Formosa Get Out," and anti-China claims over the disputed East Sea (South China Sea) such as "No to Chinese Expansionism."
The police reportedly said that in addition to her Facebook and blog posts, other "crimes" she committed included giving interviews to CNN and Radio Free Asia.
Ms. Quynh received a Hellman Hammett grant from Human Rights Watch in 2010 as a writer defending free expression. In 2015, Civil Rights Defenders gave her the 2015 Civil Rights Defender of the Year award. In March 2017, she received the International Women of Courage award from the U.S. State Department.
"For the last 10 years, Nguyen Ngoc Nhu Quynh has worked tirelessly to advance human rights and promote freedom and democracy in Vietnam," said Robertson.
"International donors and trade partners should publicly condemn her arrest and urge the Vietnamese government to immediately and unconditionally release her."
Along with calling for freedom of Ms. Quynh, Human Rights Watch urges Vietnam to unconditionally release all those detained or imprisoned for their peaceful activities and speeches, including human rights lawyer Nguyen Van Dai, land rights and labor activist Tran Thi Nga. Mr. Dai was detained on December 16, 2015 while Ms. Nga was arrested on January 21 this year, both were charged with "conducting anti-state propaganda."