Vietnam Human Rights Defender Sentenced to 10 Years in Prison for Criticizing Government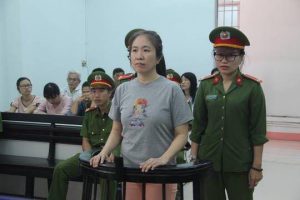 By Defend the Defenders, June 29, 2017
Vietnam's authorities have sentenced prominent human rights advocate Nguyen Ngoc Nhu Quynh to ten years in prison for criticizing government and voicing against China's violations of the country's sovereignty in the East Sea (South China Sea).
On June 29, the People's Court of Vietnam's central province of Khanh Hoa found Ms. Quynh, a well-known blogger with pen-name Me Nam (Mother Mushroom) guilty of "conducting anti-state propaganda" under Article 88 of the country's 1999 Penal Code.
According to the indictment, Quynh posted a number of anti-state articles on her blog Me Nam, including documents about 31 cases regarding people who died in police custody, which she and others had collected from state media. The police claimed that the file "bears a hostile viewpoint against the people's police force. The document makes the readers misunderstand the nature of the problem, offends and lowers the prestige of the people's police force, and harms the relationship between the people and the police force."
The court also used evidences provided by the Khanh Hoa police when they searched Ms. Nam's private residence on October 10 last year after they arrested her. These evidences included banners and slogans such as "Fish Need Water, The Country Needs Transparency," "Take Legal Action Against Formosa," "No Formosa," "Formosa Get Out," and anti-China claims over the disputed Truong Sa (Spratlys) and Hoang Sa (Paracels) such as "No to Chinese Expansionism."
Her interviews to CNN and Radio Free Asia were also used as evidences against her.
Ms. Quynh was detained in October last year. She had been kept incommunicado until June 20 this year and was permitted to meet with her lawyers for the first time for preparing defense.
Many foreign embassies, including the EU, the U.S., Germany and Sweden and international news agencies had applied to attend the open trial, however, authorities in Khanh Hoa rejected, citing technical and security issues.
One day prior to the trial, she was allowed to meet with her mother. "Mother, I am so, so sorry to you.  But if I was given the chance to start all over again and reconsider my options, I would still take the same path," she told her before police divided the two females after short conversation.
On the day of the trial, authorities in Khanh Hoa deployed large numbers of police and militia to block all roads leading to the courtroom, not allowing civil people to approach it. Many relatives and friends of Quynh and activists were forced to stay far from the court's areas while her mother was not allowed to be in the courtroom but watched the trial in an another room via television screen.
Many activists in Ho Chi Minh City and Nha Trang city said they were kept de facto under house arrest since very early of Thursday as local authorities sent plainclothes agents to station near their private residences in a bid to prevent them from going to the court areas to support the defendant. Seven activists were detained by police when they tried to approach the courtroom, local bloggers said.
Quynh's heavy sentence was made to silence local political dissidents, human rights defenders, social activists and independent bloggers amid rising social dissatisfaction due to systemic corruption, bad economic management and increasing environmental pollution as well as weak response to China's violations of the country's sovereignty in the East Sea.
Before the trial, many international organizations including Amnesty International, Civil Rights Defenders, Reporters Without Borders, and Human Rights Watch issued statements calling Vietnam's communist government to immediately and unconditionally release Quynh who was arrested and charged just because she exercised her rights of freedom of expression.
Last year, four days after her arrest, Zeid Ra'ad Al Hussein, the UN High Commissioner for Human Rights urged Vietnam's Government "to abide by its obligations under human rights law, to drop these charges against Ms. Quynh and to release her immediately". He noted that Article 88 of the Vietnamese Penal Code is "overly broad and ill-defined" and "effectively makes it a crime for any Vietnamese citizen to express an opinion, to discuss or to question the Government and its policies."
Quynh is among leading human rights activists in Vietnam. She received a Hellman Hammett grant from Human Rights Watch in 2010 as a writer defending free expression, the 2015 Civil Rights Defender of the Year award of Civil Rights Defenders in 2015 and the International Women of Courage award from the U.S. State Department this year.