Vietnam Activist Beaten, Detained by Police While Picturing Police Harassment against Former Prisoner of Conscience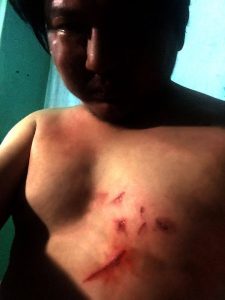 By Defend the Defenders, July 25, 2017
During the late evening of July 24, activist and blogger Nguyen Hieu from Vietnam's southern city of Vung Tau was beaten, detained and interrogated by local security forces when he was filming police harassment against former prisoner of conscience Bui Thi Minh Hang.
Around 9 PM of Monday, police in Vung Tau came to the private residence of Bui Thi Minh Hang, who was released on February 11 after 30 months of imprisonment, to demand for administrative checking. Ms. Bui Hang rejected opening her house's gate to and called for support from local activists.
Informed by the incident, Mr, Hieu, an activist in the city, came to help the former prisoner of conscience. When he arrived to the place, he saw numerous police officers and militia in the front of her house. Hieu used his cell phone to film the scene.
Immediately, police and militia detained him, beating him with their batons until he fell on the ground. Police took him to the local police station in Ward 4 and hand-cuffed him until midnight when other activists came to demand for his release.
Due to the police torture, Hieu suffered from numerous injuries and was taken to a local hospital for emergency.
This is the second attack of Vung Tau police against Hieu. Two weeks ago, he was also beaten by a group of plainclothes agents.
Mr. Hieu is among activists in Vung Tau participating in peaceful demonstrations against child molestation, China's violations of the Vietnamese sovereignty in the East Sea (South China Sea) and the Taiwanese Formosa Plastic Group which caused the environmental disaster in the central coastal region by discharging huge volume of toxic industrial waste into the local waters.
He has also provided assistance for other activists, including Ms. Hang when she came back from prison. Hang was a former prisoner of conscience, sentenced to 30 months in jail for her activities which aims to promote human rights and protest China's expansionism in the East Sea.
Due to his activism, police asked his landlord to terminate apartment hiring contract and sent plainclothes agents to assault him in early July.
Along with detention and prison, Vietnamese activists are facing physical persecution of local security forces. Numerous political dissidents, human rights advocates, social activists and online bloggers have been assaulted by police officers and plainclothes agents.
Last month, Human Rights Watch released its report documenting 36 attacks of Vietnamese police and plainclothes agents against 45 activists in the period between the beginning of 2016 and April 2017. In many cases, victims suffered from sustained severe injuries as a result of the crackdown.