Vietnam Arrests College Lecturer, Accusing Him of Abusing Democratic Freedom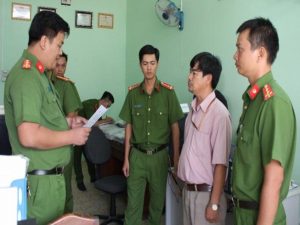 By Defend the Defenders, August 2, 2017
Authorities in Vietnam's southern city of Can Tho have arrested Tran Tuan Kiet, a lecture of the Can Tho College, and charged him with "Abusing democratic freedoms to infringe upon the interests of the State, the legitimate rights and interests of organizations and/or citizens" under Article 258 of the country's 1999 Penal Code, according to state media.
The Investigation Agency in Ninh Kieu district, which carried out the arrest, also conducted search in Mr. Kiet's office, media said on Wednesday.
According to the Phap Luat Thanh pho Ho Chi Minh newspaper, police in Can Tho received a denunciation against Mr. Kieu on May 23 which says he had a threat of conducting murder.
During the investigation, police in Can Tho found that Kiet "had abused democratic freedom to infringe upon the interest of the Can Tho College and its Rector Tran Thanh Liem," the paper said.
Earlier this year, Mr. Kiet was disciplined by the college's leadership which considered his writing on Facebook affecting leaders of the institution.
On February 2, the communist party's Committee of the Can Tho College imposed warning as disciplined measure for Mr. Kiet who is head of the institution's Department of Inspection-Judicial Affairs.
Kiet was the person denouncing the improper promotion of Dr. Ho Thanh Tam as vice rector of the institution.
With the charge, Kieu, who obtained a master degree, will face imprisonment of up to three years in jail, according to Vietnam's current law.