HCM City Police Arbitrarily Detain Environmental Couple during Their Honey Moon, Beating Severely Them during Interrogation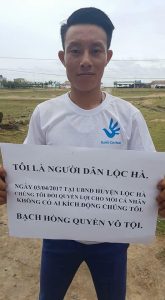 By Defend the Defenders, August 11, 2017
In late night of August 10, police in Ho Chi Minh City arbitrarily detained and brutally beat an environmental couple who came to spend their honey moon in Vietnam's biggest economic hub, the victims said.
Environmental activists Nguyen Thuy Trinh, Dang Ngoc Huong and his wife and other friends were seating in a cafeteria in Son Ky ward in Tan Phu district to chat and then a local policeman came to request Trinh to go with him to a local police station.
Ms. Trinh, a young labor activist from Ha Tinh province, objected the order, saying she has no duty to be summoned by police since she has not committed any crime. Other policemen came to demand Trinh to go to Son Ky ward police station to work about her T-shirt with "No Formosa" emblem.
As Trinh rejected and left the scene with support from other friend, police detained Mr. Huong and his wife to the police station where the couple was barbarically beaten by police officers.
In the beginning, police assaulted only Huong, however, as he remained silent, police beat his wife. In order to protect his wife, Huong was forced to sign in a working minute confessing of causing public disorders and refusing to cooperate with police.
Police in Son Ky held the couple from 10 PM of Thursday until 4 AM of the next day, and released them after imposing an administrative fine of VND350,000 ($15.4).
Police also forced Mr. Huong and his wife to leave Tan Phu district although the couple planned to stay longer in the district during their honey moon.
Huong is an environmental activist from Ha Tinh, one of the most affected areas by the discharge of industrial waste of the Taiwanese Formosa steel plant to the local coast which caused the most serious environmental disaster in the 200-km coastline of the central region in April last year.
He has been active in protesting the Taiwanese firm to demand it to clean the local waters, compensate for the affected fishermen, and leave the country.
One week earlier, Huong got married and they are on their week-long travel to the southern region.
Instead of closing the steel plant of Formosa Plastic Group in Ha Tinh after the environmental catastrophe in which hundreds of tons of fish died, Vietnam's authorities target activists who voice against the environment polluter.