Vietnam Court Postpones Trial against Blogger Nguyen Van Oai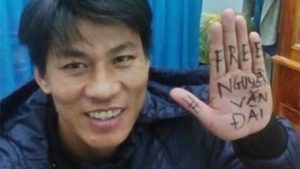 Defend the Defenders, August 22, 2017
The People's Court of Hoang Mai town in Vietnam's central province of Nghe An has deciced to postpone the trial against former prisoner of conscience Nguyen Van Oai scheduled on August 21/
The decision was made on August 20, just one day prior to the trial, said Ha Huy Son, lawyer of Mr. Oai said.
According to the decision, the delay is due to the absence of one of witnesses in the case.
Oai, who was imprisoned for four years between 2011 and 2015, was arrested on January 19 this year and charged with "Resisting persons in the performance of their official duties" under Article 257 and "Failing to execute judgments" under Article 304 of the country's 1999 Penal Code.
He will face imprisonment of up to three years in jail for every charge if is convicted, according to the current Vietnamese law. He may receive a heavy sentence as Hanoi is intensifying its crackdown on local political dissidents, human rights defenders, social activists and independent bloggers.
The Catholic social activist was arrested on his way home from a fishing trip in Hoang Mai town. Local authorities accused him of failing to obey regulations set for house arrest as he is still under four-year probation period given by the previous sentence.
Ms. Nguyen Thi Tri, his sister said that the first charge is incorrect as when he was detained by plainclothes agents, he resisted as he thought they were thugs.
After being released two years ago, he worked to promote civil rights and assisted local residents in protesting the local authorities' power abuse regarding imposing taxes and fees, and high fees in education, she said.
In August 2011, Oai was arrested for the first time together with 13 other young Catholic activists and they were charged with "Carrying out activities aimed at overthrowing the people's administration" under Article 79 of the Penal Code. Later, they were sentenced to between four and 13 years in prison.
After his arrest in January this year, the EU, the U.S. and other countries and international human rights have condemned Vietnam's move, urging the communist government to release him immediately and unconditionally.
On August 18, Reporters Without Borders urged Vietnam to release him immediately and unconditionally, saying he was arrested just for exercising his rights of peaceful expression and assembly.