Pro-government Thugs Attack Activists after Commemoration of Late Vietnamese Anti-communist President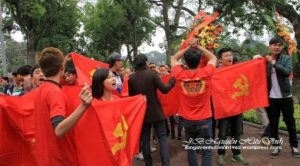 By Defend the Defenders, November 1, 2017
On November 1, pro-government thugs assaulted activists after they had participated in a commemoration of Ngo Dinh Diem, the late president of the Vietnam Republic who was killed in a military coup in 1963.
Around 300 activists gathered in the Lai Thieu cemetery in the former capital city of Saigon although the local authorities sent numerous police officers and plainclothes agents to the area.
A large group of pro-government thugs also came to the area in order to disturb the commemoration.
When Catholic priests and activists held a ceremony to pray for the late anti-communist president at his resting place, pro-government forces used high-volume speakers to disturb the event.
After the ceremony, when activists left the cemetery to go back to the city, pro-government thugs attacked some of them, including female journalist Nguyen Huyen Trang of the Tin Mung Cho Nguoi Ngheo (Good News for the Poor) and Nguyen Duy Linh.
Ms. Trang told Defend the Defenders that thugs beat her on her head and that she still felt great pain on the next day.
The attacks were made in view of the police, but they did not intervene to stop the harassment, activists said.
The attack is among a series of assaults by pro-government thugs against Vietnamese activists in 2017.
Pro-government thugs beat female activist Le My Hanh twice this year. They also targeted Catholic priests and followers in Tho Hoa parish in the southern province of Dong Nai and Song Ngoc parish in the central province of Nghe An.
Meanwhile, many Vietnamese activists consider late President Diem as the most patriotic leader in modern Vietnam. President Diem, who ruled the southern Vietnam in 1956-1963, was killed together with his younger brother Ngo Dinh Nhu in the U.S.-backed coup carried out by senior military officers on November 1, 1963.
Meanwhile, former prisoner of conscience Bui Thi Minh Hang was detained by Hanoi police on Wednesday at noon. Police confiscated all her belongings, including cell phones, and released her in late evening.
Hang, who spent three years in prison on trumped-up charges, lives in the southern city of Vung Tau. She was very active in the anti-China movement, participating in many peaceful demonstrations in Hanoi and Saigon against China's violations of the country's sovereignty in the East Sea (South China Sea).