Appeal Court for Prominent Blogger Mother Mushroom Set on November 30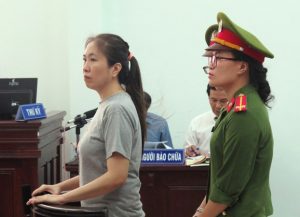 by Defend the Defenders, November 15, 2017
Prominent human rights defender Nguyen Ngoc Nhu Quynh, who is popular with her blog under the penname of Mother Mushroom, will have her appeal hearing on November 30, four months after the first trial in which she was convicted on allegation of "conducting anti-state propaganda" under Article 88 of the country's 1999 Penal Code and sentenced to ten years in prison.
The appeal hearing will be held by the Danang City High People's Court at the headquarters of the People's Court in the central province of Khanh Hoa, the native province of the activist.
Lawyers Nguyen Ha Luan, Le Van Luan, Ha Huy Son, Vo An Don, and Nguyen Kha Thanh will defend for the prominent blogger and human right campaigner in the appeal hearing.
On June 29, the People's Court of Khanh Hoa found that Ms. Quynh, the mother of two, guilty of conducting activities on Facebook and other social media, including writing, uploading and sharing articles and video content critical of the ruling Communist Party of Vietnam and the state; producing, editing, and sharing a report titled "Stop Police Killing Civilians" that listed 31 people who, the report claimed, had died in police custody; for giving interviews with foreign media that "distorted" the situation in Vietnam; and for her possession of a poetry collection and compact disc recording that were deemed critical of the ruling party and the state.
Nine days before the trial, which failed to meet international fair trial standards, the lawyers were first allowed to meet Quynh for preparing her defense while foreign diplomats and her relatives and friends were not permitted to enter the courtroom.
Before and after the trial, international human rights organizations and foreign governments, including the US and the EU, called on Vietnam's government to release her immediately and unconditionally, saying the charges against her violate the right to freedom of expression as provided in international human rights law, which binds Vietnam. Amnesty International considers Quynh a prisoner of conscience, imprisoned solely for her peaceful activities promoting and defending human rights.
Ms. Quynh was awarded a Hellman Hammett grant from Human Rights Watch in 2010 as a writer defending free expression, the 2015 Civil Rights Defender of the Year award from Civil Rights Defenders in 2015 and the International Women of Courage award from the U.S. State Department this year.
In order to maintain the country under a one-party regime, Vietnam has little tolerance for government critics. It has used controversial articles such as 79, 88 and 250 in the national security provision of the Penal Code to silence local activists.
So far this year, Vietnam has arrested, sentenced, and expelled abroad 25 activists.
Vietnam is holding around 90 prisoners of conscience, says Amnesty International while BPSOS and 14 other international and domestic human rights organizations placed the number of political prisoners as high as 165 prisoners. Hanoi always denies imprisoning any prisoner of conscience but only law violators.