Vietnam Jailed Human Rights Activist Tran Thi Nga Allowed to Meet with Her Kids after 11 Months in Custody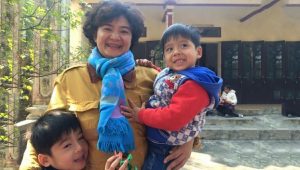 By Defend the Defenders, December 28, 2017
Jailed Vietnamese human rights defender Tran Thi Nga has been permitted to meet with her kids for the first time since her arrest in late February and conviction in July.
On December 27, Nga was allowed to meet with his kid Tai, 5 and Phu, 7 at the detention facility in Ha Nam province. However, she and her kids were still divided by a window glass in two diferent rooms and under presence of two police officers.
Ms. Nga was convicted on allegation of "conducting anti-state propaganda" under Article 88 of the country's 1999 Penal Code and sentenced to nine years in prison and five years under house arrest afterward by the People's Court in Ha Nam province in late July.
On December 22, the Higher Court in Hanoi rejected her appeal, upholding the sentence given by the lower court.
Nga was not permitted to meet with her family and kids after the investigation and even after the trial as authorities in Ha Nam said the denial was based on her "bad behaviors" as she rejected the court's decision and refused to confess "wrongdoings."
Ms. Nga was a migrant worker in Taiwan. While working there, she assisted Vietnamese workers to demand Vietnamese brokers to take responsibility to ensure the rights of migrant workers.
Upon her return to Vietnam, about ten years ago, she assisted land petitioners who lost their land due to illegal seizure from local authorities.
She also participated in many anti-China demonstrations in Hanoi from 2011 to 2016 to protest China's violations of Vietnam's sovereignty in the East Sea (South China Sea), as well as in peaceful gatherings to demand multi-party democracy.
Due to her activities, Vietnam's communist government, particularly authorities in Ha Nam province constantly harassed and persecuted her and her two children. She was detained many times and was placed under de facto house arrest for most of the last two years.
In May 2014, she was attacked by plainclothes agents in Hanoi who broke her right leg and caused a number of severe injuries to her body.
Police in Ha Nam also targeted her kids, throwing dirty sauce containing decaying shrimp at them. Her private residence in Phu Ly city was attacked with paint and dirty substances many times.
Ms. Nga is among six distinguished women human rights activists in Southeast Asia the London-based NGO Amnesty International recognized their works on the occasion of International Women's Day (March 8) this year. Nga, Sirikan Charoensiri from Thailand, Maria Chin Abdullah from Malaysia, Tep Vanny from Cambodia, Leila de Lima from Philippines and Wai Wai Nuwho from Myanmar have faced harassment, threats, imprisonment, and violence for standing up for human rights in the region.
Since her arrest, many foreign governments and a number of international human rights organizations including Human Rights Watch and Reporters Without Borders called on Vietnam's communist government to immediately and unconditionally release her and other activists who have been imprisoned just because of exercising the right of freedom of expression which is enshrined in the country's 2013 Constitution.
The arrest and conviction of Nga are part of Vietnam's ongoing crackdown on local dissidents, human rights defenders, social activists and online bloggers.
So far this year, Vietnam has arrested, tried and expelled abroad over 30 activists. Ten of them have been charged with subversion under Article 79 of the Penal Code and face capital punishment, many others are charged with "conducting anti-state propaganda with imprisonment up to 20 years.
On November 30, Vietnam upheld the 10-year sentence of prominent human rights campaigner Nguyen Ngoc Nhu Quynh, who is well-known blogger with a penname Mother Mushroom. Two weeks earlier, the communist government also convicted blogger Nguyen Van Hoa and sentenced him to seven years in prison and three years under house arrest. Like Nga, the two activists were also convicted of "conducting anti-state propaganda," one of many controversial articles of the national security provisions in the Penal Code the communist government is using to silence local activists.