Pressured by Hanoi Police, Landlord Expels Family of Prominent Activist Le Quoc Quan out of His Apartment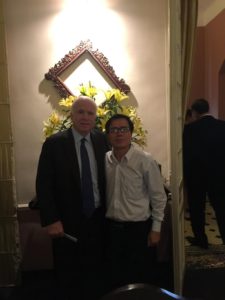 Defend the Defenders, January 17, 2018
The family of prominent human rights and pro-democracy activist Le Quoc Quan has been expelled out of their apartment in Hanoi as the landlord is under pressure of the local police.
Mr. Quan, a former prisoner of conscience, said when his family came home in the evening of January 16, he saw that their apartment was locked as the landlord removed their lock and replaced by his new lock.
The electricity and water supplies were also cut, said Quan, a lawyer spending 30 months in prison due to his democracy advocacy.
He said the renting two-year contract was signed in early January and and the landlord did not inform him in advance about his act.
Quan was forced to temporarily relocate his family in a hotel for overnight without clothes and other belongings. However, he has no intention to break the apartment to get in because he may get trouble from the local authorities.
Local authorities are behind the move which targets his family, Quan told Defend the Defenders.
Lawyer Quan, who was imprisoned for 30 months for fabricated allegation of tax evasion, has been under harassment of Hanoi police since being released in mid 2015. He has been blocked from meeting with foreign diplomats many times in the past few years.
Meanwhile, Protestant pastor Pham Ngoc Thach and his family face similar harassment. The family was forced to relocate from the Central Highlands province of Dak Lak to Buon Me Thuat town after the landlord broke a renting contract under pressure of the local police. Pastor Thach, who is a former prisoner of conscience, has worked for religious freedom for ethnic minorities in the Central Highlands and faced constant intimidation and harassment from the local authorities in decades, including being banned from traveling abroad.