Under Pressured of HCM City Authorities, Landlord Evicts Activist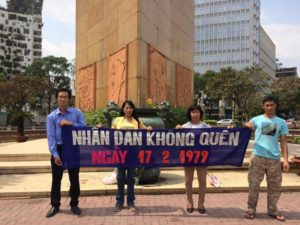 Defend the Defenders, February 19, 2018
A landlord has evicted primary school teacher Nguyen Thi Loan out of her apartment in Go Vap district, Ho Chi Minh City after finding out that she had took part in a commemoration of fallen soldiers and killed civilians by the People Liberation Army of China in 1979.
The eviction was likely made under pressure of local authorities, Mrs. Loan told Defend the Defenders.
On February 17, Loan and her husband Trinh Toan together with several activists held a small demonstration at the Tran Hung Dao monument in the city's center to mark the 39th anniversary of China's invasion of Vietnam's northern provinces in which the Chinese army killed around 60,000 Vietnamese soldiers and civilians and destroyed infrastructure there.
Few hours after returning to their apartment, the landlord came to order the couple to move out of their room. The landlord found the couple among peaceful protestors in Facebook, the most popular social network in Vietnam.
Loan said she and her husband have been forced to move from one place to another many times in recent months due to their social activities.
Loan has involved in peaceful demonstrations against China's invasion in the South China Sea, the Taiwanese Formosa steel plant which caused the environmental pollution in the central coastal region in 2016, and other issues, including pedophile cases last year.
She had been detained and beaten many times by security forces in HCM City. Under police pressure, she had been fired as a teacher and her husband faces difficulties in finding a job.
Meanwhile, many activists in Hanoi and HCM City complained that they were placed under house arrest on February 17 in order to prevent them from gathering to pay attribute to soldiers and citizens killed by China in a short but brutal war which last from mid February to early March.
In order to prioritize comprehensive strategic partnership with China, Vietnam's communist government has tried not to speak about the war. Most of state newspapers and televisions remain silent about the event.
Many anti-China activists have been arrested and beaten by security forces and some convicted with trumped-up allegations.