Saigon-based Activist Deported When Trying to Attend Funeral of Catholic Priest's Mother in Central Region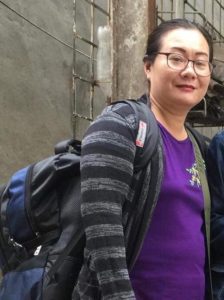 Defend the Defenders, April 23, 2018
On April 22, security forces in Vietnam's central province of Nghe An deported female activist Tran Thu Nguyet back to Ho Chi Minh City when she tried to attend a funeral of the mother of a local Catholic priest, Defend the Defenders has learned.
When Ms. Nguyet landed at the Vinh airport, security officers came and took her to a local station where they confiscated her cell phone and submerged it into water.
Two hours later, they took her to an airplane which headed back to the southern economic hub where she resides.
Nguyet, who travels across Vietnam to support suppressed activists, planned to go to Nghe An to attend the funeral of priest JB Nguyen Dinh Thuc's mother who passed away last week. The father is among outspoken priests about the Formosa's environmental disaster and pays efforts to support affected fishermen.
Nguyet was detained by police many times when she participated in peaceful demonstrations about issues such as country's sovereignty and environmental pollution.