Updated: Kien Giang Farmer Who Participates in June 10 Demonstration Deadly Injured During Police Interrogation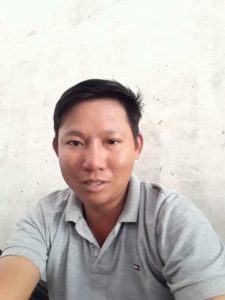 Defend the Defenders, August 3, 2018
Hua Hoang Anh, a farmer in Vietnam's southern province of Kien Giang, who participated in the mass demonstration on June 10, 2018, was found dead after having beeninterrogated by the local police, Defend the Defenders has learned.
According to local activists, Mr. Hoang Anh, 35, died in the afternoon of August 2 on the way from his private residence in Binh Loi Village, Minh Hoa commune, Chau Thanh district to a district hospital.
Citing his cousin, an activist said that four police officers came to his house to interrogate him about his activities. His wife went to make tea for them and when she returned she saw him collapsed with some injuries in his neck and belly. The police officers and she took him to a local hospital wherehe died, possibly due to losing too much blood.
Police in Kien Giang said he had committed suicide.
Mr. Anh has participated in many protests since 2014 on various issues, including China's violations in Vietnam's sovereignty in the South China Sea, the environmental disasters caused by the illegal discharge of industrial waste by Formosa in the central coast, and most recently, two bills on Special Economic Zones and Cyber Security.
Since September 2017, police in Kien Giang havesummoned Anh many times for interrogation about his participation in peaceful demonstrations, however, he has denied their requests, said Buddhist follower Huynh Tan Tuyen from Ba Ria-Vung Tau province, with whom they had conversions in recent months.
Mr. Tuyen said they met each other on June 10 while security forces in Ho Chi Minh tried to detain them. Anh helped Tuyen and othersto escape thepolice, both previously having been beaten and dragged into a police car.
The days after the demonstration, both Tuyen and Anh were summoned by police in their localities, Tuyen said.
After Anh died, local authorities reportedly forced his family to burry him the next day, sending large numbers of police officers and plainclothes agents to Mr. Anh's private residence in Minh Hoa Commune to block other activists to come to share sympathy to his family and gain information about his death.
Anh has been the second activist found dead after being interrogated by police since 2017. On May 2, police in Vinh Long province detained local Hoa Hao Buddhist follower Nguyen Huu Tan on allegation of "conducting anti-state propaganda" and on the next day, police informed his family that he had committed suicide during interrogation by using a letter opener of an interrogation officer.
Police brutality is systemic in Vietnam, according to a report of Human Rights Watch while the Ministry of Public Security admitted that 226 suspects and inmates died in police stations and detention facilities across the nation between October 2010 and September 2014.
The situation has not improved even after Vietnam ratified the UN Convention against Torture in November 2014 as dozens of people continue to die mysteriosly in custody. Human rights defender Nguyen Ngoc Nhu Quynh, Mother Mushroom,was imprisoned last year partly because she documented 31 cases of mysterious deaths in police custody.
Meanwhile, the right to asssembly is enshrined in the country's 2013 Constitution, however, the communist government does not welcome spontanous gatherings, and usesviolent measures to suppress those demonstrations considered to challenge the ruling communist party's power.