Jailed Tran Huynh Duy Thuc Ends Month-lasting Hunger Strike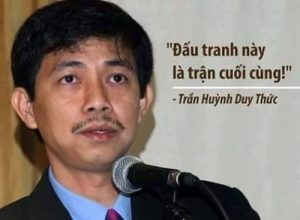 Defend the Defenders, September 16, 2018
Prisoner of conscience Tran Huynh Duy Thuc, who is serving his 16-year imprisonment in Prison camp No. 6 in Vietnam's central province of Nghe An, has ended his hunger strike which started in mid-August, Defend the Defenders has learned.
Mr. Thuc, who was convicted on allegation of subversion, decided to resume consuming food on September 16 after meeting with his two sisters and daughter who came from Ho Chi Minh City to visit him.
Their meeting was interrupted on Saturday but resumed in the morning of next day as both the family and the prison's authorities want to convince him to stop hunger strike.
On Saturday's afternoon, his sisters and daughter met him for few minutes instead of the prison's standard of one hour as police interrupted their conversation. When they saw each other, the prison's guards told them to talk only basic greetings and family's affairs. When the sisters mentioned "outside situation" to Mr. Thuc, police officers immediately took him out of the meeting room and they were no longer allowed to continue their conversation.
Due to the police's interruption, Mr. Thuc decided to extend his hunger strike one more day.
Hundreds of Vietnamese activists joined a hunger strike campaign to support Mr. Thuc. They called on him to stop hunger strike when his health worsened.
Mr. Thuc, who was sentenced to 16 years in prison on allegation of subversion, started his hunger strike on August 14 in a bid to protest the prison's bad treatment which aims to force him to make confession.
The 52-year-old activist reportedly denies proposals to live in exile after his conviction.
Thuc, who is one of symbols for human rights and democracy in the Southeast Asian nation, is listed as prisoner of conscience by many domestic and international human rights organizations.
For more information on Mr. Thuc, please go to our website's archive.