Imprisoned Religious Activists Bui Van Trung, Nguyen Hoang Nam Beaten, Transferred Further Away after Protesting Forced Labor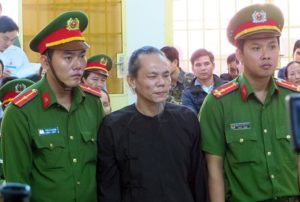 Defend the Defenders, November 27, 2018
Bui Van Trung and Nguyen Hoang Nam, who were convicted and imprisoned due to their religious activities as Hoa Hao Buddhist followers, have been treated inhumanely and transferred further away from their native province of An Giang.
According to their relatives, Mr. Trung was handcuffed while being transferred from Phuoc Hoa Prison camp in Tien Giang province to An Phuoc Prison Camp in Binh Duong province on November 14.
On the same day, Mr. Nam, whose body was covered with his blood, was taken from Tien Giang to Xuan Loc Prison camp in Dong Nai province. He was likely beaten by prison guards before being transferred.
Nam is still suffering from injuries in his eyes and head due to police's torture months ago when he protested handcuffing Mr. Trung during his transfer from Bang Lang temporary detention facility in An Giang province to Phuoc Hoa Prison camp. At that time, two policemen reportedly used electric shock prodsto attack him.
The transfers of the two activists and the inhumane treatment against them are in a reprisal of Phuoc Hoa Prison camp's authorities for their objection to forced labor imposed by the prison and their refusal to make false confession, said their families.
Nam and Trung were arrested on June 26/6/2017 together with Trung's wife Le Thi Hen, son Bui Van Tham and daughter Bui Thi Bich Tuyen, as well as Le Thi Hong Hanh on the day of memorizing Trung's mother. As they are followers of independent Hoa Hoa Buddhist sect, authorities in An Giang did not want them to gather in Trung's house but they rejected and protested so police came to disperse them, arresting people and accusing them of "causing public disorders" and "rejecting on-duty state officials."
In their trial on February 9 this year, Trung and his son were sentenced to six years in prison, Nam- four years, Hanh and Tuyen to three years each, Mrs. Hen was given two years of probation. The People's Court of An Giang rejected their appeals on the appeal hearing in late May and upheld their sentences.
All of them were listed as prisoners of conscience by Now!Campaign, a coalition of 14 domestic and international civil organizations working for release of all prisoners of conscience in Vietnam.