Exiled Vietnamese Activists Concerned about Bilateral Cooperation between Police of Vietnam and Thailand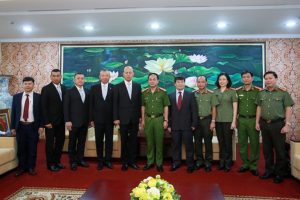 Defend the Defenders, August 20, 2019
Many Vietnamese activists who fled to Thailand to avoid the Vietnamese communist government's crackdown on the local dissent are concerned about the tightening bilateral cooperation between the police forces from the two Asian countries.
According to Vietnam's state media, a delegation of the Thai Royal Police is visiting Vietnam in a bid to boost bilateral security cooperation with the local police forces. During their visit in Vietnam, the Thai delegation, led by General Torsak Saardpark, have conducted talks with high-profile officers from Vietnam's Ministry of Public Security and the Hanoi Police Department.
The content of bilateral cooperation includes combat against transnational crimes, according to local newspapers.
This is a serious warning for hundreds of Vietnamese activists who mostly reside in Bangkok and surrounding areas. Many of them have been granted political asylum status by the Office of the UN High Commissioner on Refugees (UNHCR) in Bangkok.
As Thailand has yet signed the UN Convention on Refugees, all exiled foreign activists including those who have been recognized as political asylum by UNHCR but do not have legal Thai visa may face being arrested and jailed in the Bangkok-based Immigration Detention Center or even in worse case, being deported to their home countries where they will face persecution.
Hundreds of exiled Vietnamese and from other countries have been detained during regular raids of the Thai police in recent years, and few of them have been released. Only mothers having babies can be released with bails of THB50,000 ($1,613) each.
The number of Vietnamese activists living in exile in Thailand has risen significantly in the past few years since the Vietnamese authoritarian government intensified political crackdown in late 2015.
Vietnam and Thailand signed a strategic partnership in 2013 and the security forces from the two nations have pledged to maintain close ties.
In late January this year, one day after registering as a political asylum seeker to the UNHCR in Bangkok, former prisoner of conscience Truong Duy Nhat was detained by Thai police officers who later handed him over to Vietnamese secret agents, according to UN's experts. Mr. Nhat is currently being held in Vietnam and investigated for a criminal charge.