Vietnam Arrests Second Human Rights Defender after Communist Leader Visits China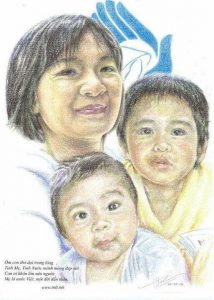 By Defend the Defenders, January 21, 2017
Well-known human rights defender Tran Thi Nga from Vietnam's northern province of Ha Nam has become the second activist to be arrested this year, six days after General Secretary Nguyen Phu Trong returned from China where he paid an official visit to the northern neighbor country.
On January 21, authorities in Ha Nam deployed a large number of police officers to arrest Ms. Nga, a labor and land rights activist and mother of two children aged six and four. Police also searched her house and took many of her personal items.
Police also arrested her boyfriend, blogger Luong Dan Ly, who is also a pro-democracy activist from Hanoi. They released him one day later.
The state-control Vietnam Television, in its news bulletin of Saturday's evening, reported information from the Ministry of Public Security that Nga is charged with "anti-state propaganda" under Article 88 of the country's Penal Code. If convicted, she will face imprisonment of up to 20 years in jail.
Several days before the arrest, the local authorities sent many plainclothes agents to her private residence in Phu Ly city to prevent her from going out. They even prevented her neighbor from taking her two children to a local store to buy sandwiches for the kids.
Ms. Nga was a migrant worker in Taiwan. While working there, she assisted Vietnamese workers to demand Vietnamese brokers to take responsibility to ensure the rights of migrant workers.
Upon her return to Vietnam, about ten years ago, she has assisted land petitioners who lost their land due to illegal seizure from local authorities.
She also participated in many anti-China demonstrations in Hanoi from 2011 to 2016 to protest China's violations of Vietnam's sovereignty in the East Sea (South China Sea), as well as in peaceful gatherings to demand multi-party democracy.
Due to her activities, Vietnam's communist government, particularly authorities in Ha Nam province have constantly harassed and persecuted her and her two children. She was detained many times and was placed under de facto house arrest for most of the last two years.
In May 2014, she was attacked by plainclothes agents in Hanoi who broke her right leg and caused a number of severe injuries to her body.
Police in Ha Nam have also targeted her kids, throwing dirty sauce containing decaying shrimp at them. Her private residence in Phu Ly city was attacked with paint and dirty substances many times.
For more information on Ms. Nga's activities and the government's persecution against her and her kids, go to older articles on our website: http://www.vietnamhumanrightsdefenders.net/?s=%22Tran+Thi+Nga%22
Ms. Nga is the second Vietnamese activist arrested after the visit of Mr. Trong to China where the two ruling communist parties have pledged to deepen bilateral ties allegedly to ensure political stability in the two countries.
In the late evening of January 19, authorities in the central province of Nghe An arrested former prisoner of conscience Nguyen Van Oai when he went fishing in Hoang Mai town, accusing him of resisting on-duty state officials and breaking the rules governing his probation period. Mr. Oai, who was arrested in 2011 and sentenced to four years imprisonment on charges of conducting activities "aiming to overthrow the government" under Article 79 of the Penal Code, is still under three years of house arrest after his term ended in July 2015.
On January 11, authorities in the central province of Ha Tinh detained blogger Nguyen Van Hoa, who often covered news on local protests against Formosa Ha Tinh steel plant which caused catastrophic pollution in the central coastal region by discharging huge amount of toxic chemicals into waters. Later, Hoa was charged with abusing democratic freedom under Article 258 of the Penal Code.
As U.S. President Donald Trump vowed to kill the Trans-Pacific Partnership (TPP), Vietnam's communists have sought closer ties with China in order to keep the country under one-party rule, said observers, adding that more arrests of political dissidents, social activists and human rights advocates were expected in 2017.
Last year, the new Vietnamese leadership elected in the 12th National Congress of the ruling party showed their merciless power. The communist authorities imprisoned at least 16 activists for lengthy periods on charges of anti-state activities under controversial legal provisions such as Articles 79, 88, 245 and 258 of the Penal Code. Two of them, Tran Anh Kim and Le Thanh Tung, were sentenced to 13 and 12 years in jail and an additional four and three years under house arrest, respectively. Other activists, including prominent blogger Nguyen Huu Vinh and Nguyen Dinh Ngoc, received jail terms of between two and five years for their exercising their rights to freedom of speech and of peaceful assembly, which are enshrined in the country's 2013 Constitution.
In 2016, Vietnam also arrested at least eight activists, including prominent human rights defender Nguyen Ngoc Nhu Quynh (also known as Me Nam or "Mother Mushroom"), well-known blogger Ho Van Hai and activist Luu Van Vinh, and charged them with anti-state activities on the basis of Articles 79 and 88 of the Penal Code.
The communist government still holds human rights lawyer Nguyen Van Dai and his assistant Le Thu Ha on anti-state propaganda charges under Article 88 of the Penal Code. The duo was arrested on December 16, 2015.
You can read the report of Defend the Defenders on Vietnam's persecution of local activists in 2016 here: http://www.vietnamhumanrightsdefenders.net/2017/01/19/vietnams-suppression-of-political-dissidents-social-activists-and-human-rights-defenders-in-2016/