One More Criminal Suspect Beaten to Death in Police Custody in Central Vietnam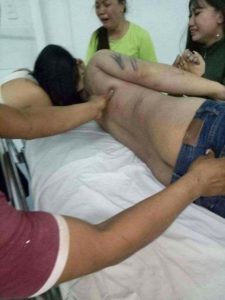 Defend the Defenders, September 12, 2017
Vo Tan Minh, 25, is the latest detainee found dead in police station in Vietnam amid increasing public concern about torture in the Southeast Asian nation.
Minh, a resident from Phan Rang-Thap Cham city, central province of Ninh Thuan, was detained on April 28 due to possessing small volume of drug. He was held in the temporary detention under the management of the province's Police Department.
Later, Minh was transferred to the temporary detention facility under the management of police in Phan Rang- Thap Cham. The last time his family visited him on August 30, said his mother Pham Thi Thu Huyen.
On September 8, the province's police informed Mrs. Huyen that Minh had died and his body is held in the Ninh Thuan General Hospital.
When they came to the hospital, the mother and other family members recognized numerous injuries on his body, including at his nape.
Police explained Minh was beaten to death in a clash, citing a video record. However, they have not said with whom he had fought.
Police said they will continue investigation about the death of Minh.
Minh was among numerous detainees who have been found dead in police custody in recent years after the country ratified the UN Convention against Torture (CAT).
Police torture is systemic in Vietnam, according to Human Rights Watch.
Nguyen Mai Trung Tuan, 17, who was released in late August after 24-month imprisonment for "Committing the crime of injuring or causing harm to the health of other persons" under Article 104 of the country's 1999 Penal Code, said he was brutally beaten many times by police officers before and after trials. He was also treated as an animal, forced to work as construction worker during the imprisonment.