HCM City-based Activist Kidnapped, Interrogated for 20 Hours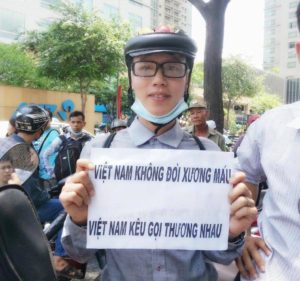 By Defend the Defenders, October 9, 2017
Nguyen Dang Vu, an activist living in Ho Chi Minh City, was kidnapped by the city's police, who interrogated him for 20 hours about his social activities.
Vu, who has a Facebook account named Nguyen Peng, went missing in the evening of October 7, after participating in a wedding party for a couple of local activists. He appeared 20 hours latter, saying he had been detained by security forces who took him to a police station on Lac Long Quan street for questioning.
Vu said during the overnight interrogation, police officers questioned him about Nguyen Viet Dung, an activist kidnapped by police in Nghe An province and later charged with "conducting anti-state propaganda" under Article 88 of the Penal Code. They also asked about posts on his Facebook account Nguyen Peng.
Police questioned Vu about money he had received from Dung. Vu has been involved in a number of charity activities and Dung was among the donors.
Vu said last week, when he travelled to the central region for a charity mission, that he had received a call from Nghe An province police about Dung. Vu's relatives were also approached and questioned by the police while he was away.
This was the second time Vu was kidnapped by police. The first occurred on June 8. Security forces in the Central Highlands province of Dak Lak kidnapped and tortured him for two days following his visit to the locality to meet with local activists (details about the case: http://www.vietnamhumanrightsdefenders.net/2017/06/11/vietnam-activist-kidnapped-tortured-by-police-while-visiting-dak-lak/)
Despite his weak health, Vu has participated in many peaceful demonstrations on environmental and other issues, and posted a number of articles on his Nguyễn Peng Facebook account about human rights and multi-party democracy. He is very active in charity mission to help children in remote areas, invalids from the Vietnam War, and people affected by the environmental catastrophe caused by the Taiwanese Formosa steel plant.
Along with arrests and imprisonments on trumped-up charges, Vietnam's security forces have also applied other tactics to harass local political dissidents, human rights defenders, and social activists such as economic blockage, kidnaping, and torture in a bid to silence them. Hundreds of activists have been kidnapped, beaten, and robbed by security forces in the past few years.