Vietnam to Hold Pro-democracy Activist Vu Van Hung for Two Months on Allegation of Causing Public Disorders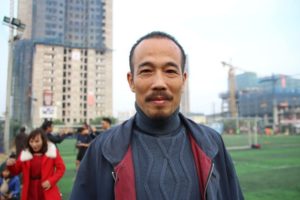 Defend the Defenders, January 13, 2018
Authorities in Hanoi will hold prodemocracy activist Vu Van Hung (or Vu Hung) for the next two months for investigation on allegation of "causing public disorders" under Article 318 of the country's 2015 Penal Code.
Police in Thanh Xuan district informed his family after nine days of detention. Currently, Mr. Hung, who is a former secondary school teacher and member of the unsanctioned Brotherhood for Democracy, is held in the Temporary Detention Center of Thanh Xuan district police.
According to the current law, people accused of causing public disorders may face imprisonment of up to seven years in prison.
Mr. Hung, a member of the unsanctioned Brotherhood for Democracy, went missing from 1.30 PM of January 4 after participating in a meeting of the unsanctioned Chu Van An Teachers Association in a restaurant in Thanh Xuan Bac ward, Thanh Xuan district. The lunch-meeting was disrupted as the restaurant owner under district police pressure asked the participants left the facility at the middle of the event.
After failure to connect with Mr. Hung by phones, his relatives went to different places to seek for him. When his wife and son came to the police station of Thanh Xuan Bac ward, they found him kept here.
Police denied telling them the reason for his detention while Mr. Hung said he was caught in a trumped-up case and beaten by plainclothes before being arrested and taken to the police station. He was hand-cuffed, the wife said.
At a meeting with his lawyer in the police detention facility, Mr. Hung said he was followed by two plainclothes agents after leaving the restaurant by a bus. The agents started to attack him in a place near his private residence in Ha Dong district and they arrested him with the support of the local police.
The detention is related to his human rights activities, affirmed Vu Quoc Ngu, chief executive officer of Defend the Defenders, adding Vietnam's security forces often detain or kidnap targeted activists in trumped-up cases and later charge them with controversial articles in the Penal Code's national security provisions.
As a member of the Brotherhood for Democracy, Mr. Hung is targeted for long time ago, Mr. Ngu said.
Brotherhood for Democracy is one of main targets of Vietnam's ongoing crackdown on local dissent, the most severe campaign for many years.
Last year, Vietnam arrested key members of the online organization, including Nguyen Trung Ton, Pham Van Troi, Nguyen Van Tuc, Truong Minh Duc, and Nguyen Trung Truc. The founder Nguyen Van Dai and his assistant Ms. Le Thu Ha were arrested in late 2015. They were charged with subversion under Article 79 of the country's 1999 Penal Code and face life imprisonment or even death punishment if convicted, according to the current law.
In November 2017, Mr. Hung was summoned by Hanoi police several times for interrogation about his membership of the Brotherhood for Democracy.
Mr. Hung is a former political prisoner. In 2008, he was arrested for hanging banners calling for multi-party democracy and later convicted with "conducting anti-state propaganda" under Article 88 of the 1999 Penal Code. He was sentenced to three years in jail and three years under house arrest. He was forced to abandon his job as a secondary school teacher.
After being released in 2011, Hung has actively participated in peaceful demonstrations and meetings on social issues, including the environmental disaster caused by the toxic industrial waste discharge of the Taiwanese Formosa steel plant in the central coastal region in 2016 which caused massive death of marine there.
The Communist Party of Vietnam has ruled the country for decades and strives to maintain the nation under a one-party regime.
Since the 12th National Congress of the party in February 2016 with appointments of many police officers to senior positions of the party and state apparatuses, Vietnam has launched severe campaign to suppress local political dissidents, human rights defenders, social activists and online bloggers.
The peak of the crackdown was 2017 with arrests of at least 45 activists on allegations under controversial articles 79 and 88 of the 1999 Penal Code. The communist government convicted 19 activists, sentencing them to between three and 16 years in prisons.
In addition, Vietnam also expelled two pro-democracy activists to France.